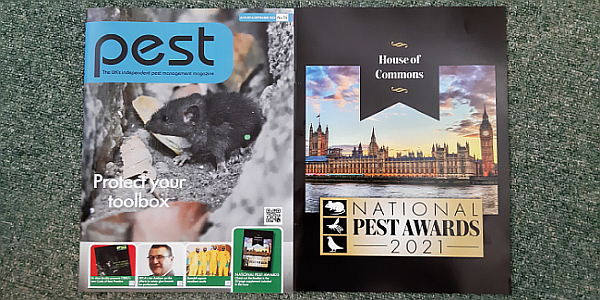 The August/September 2021 issue is out now! The issue includes

the National Pest Awards Supplement - take a look at all the 2021 finalists. Also, the new CRRU Code of Best Practice, glue boards legislation, interviews with Sumitomo, Edialux, Ecolab and 1ENV mouse plagues, zoonotic diseases, Alex Wade on rodent urination, and much more.
Now is the time for Pest readers to name their best products for the Pest Best Product Awards 2021; a vote later this year will find the winners, which will be celebrated in the Innovations Supplement in Pest 77 (October/November). Products launched between January 1, 2020 and August 18, 2021, are eligible for the Pest Best Product Awards 2021, and …
The Health & Safety Executive has accepted the British Pest Control Association to represent professional pest management's interests in UK REACH and chemical regulation as an Accredited Stakeholder Organisation (ASO). HSE acts as the agency for UK REACH. REACH stands for Registration, Evaluation, Authorisation and Restriction of Chemicals. UK REACH applies to the majority of chemical substances, including biocides used …
Westminster City Council are looking for a Pest Control Officer - could it be you?


For more information please visit the Pest website jobs section or click below.
David Greer, who operates a pest control firm, has pledged to visit an 86-year old lady's property in Northern Ireland and carry out pest control for free. Speaking on The Stephen Nolan Show on BBC Radio Ulster today, Mr Greer said: "This is an exceptional circumstance. Mice are running up this lady's arm – I would suggest to take 24 …
With autumn often a busy time for pest controllers as cluster flies start making their way into buildings, looking for a spot to overwinter, BPCA is to host a dedicated webinar on the principles of cluster fly pest control. During the webinar, which will be held at 12.30pm on Wednesday, September 22, BPCA technical officer Natalie Bungay will look at …
Rentokil North America has acquired Aanteater Pest Control and Wildlife Services, which is based in Hamilton, Ontario, for an undisclosed sum. John Myers, president and chief executive of Rentokil North America, said: "Aanteater Pest Control has created a business based on loyalty and service throughout their market. We are thrilled to expand Rentokil's presence in Ontario and welcome the Aanteater …