Together Pest magazine, Pest e-news and the Pest website deliver a mix of unbiased news, impartial advice and topical technical features for pest professionals in the UK and internationally. We work hard to be as inclusive as possible searching for news and views from all sectors of the pest management industry – private pest control companies, manufacturers, distributors, local authority units, facilities pest control, academics, regulators and consultants.
---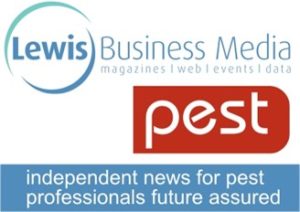 Pest, Pest e-news and the Pest website
Independent
Inclusive
Interpreting the news
Technically strong
Professionally produced
Founded in autumn 2008 by Frances McKim and Helen Riby, Pest and Pest e-news are now part of the independent, specialist business to business publisher, Lewis Business Media.
---
Our Technical Advisory Board
Technical accuracy is fundamental to our approach which is why we have established an editorial board of eminent experts to make sure readers can rely on the information they read in Pest.
On the board are:
Clive Boase
Dr Alan Buckle
Brian Duffin
Rob Fryatt
David Loughlin
Frances McKim
Dr Richard Naylor
Helen Riby
Richard Strand
Grahame Turner