The sun shone on the vibrant green pitch at Stoke City FC's Britannia ground on 15 October providing a great backdrop for the 2015 Barrettine/Pest technical seminar.
Those pest professionals who had made the effort to take advantage of this seminar, organised by Barrettine Environmental Health and supported by Pest magazine, didn't regret it. With six CPD points on offer, three for the morning and three for the afternoon session, most participants chose to stay for the whole day.
The programme was a mixture of technical product information and legal/regulatory topics with some more general interest sessions such as How to blow your own trumpet given by Pest's associate editor Helen Riby. Helen provided a whistle stop tour through some of the marketing tools and techniques available to promote not just a business or local authority commercial activity but also equally useful for those job hunting or looking to gain a promotion.
One of the most interesting sessions of the day was Chris Woodard lately of Stevenage Borough Council and well known for his TV and radio appearances, but now running his own pest control and consultancy service. Chris enthuses an interest in some of natures, shall we say less well loved creatures, such as venomous snakes and, his topic for the Stoke day, Accidental imports of dangerously venomous arachnids.
Wildlife consultant Paul Butt (yes that's the same Paul Butt who used to be at Natural England but resigned earlier this year) provided a comprehensive explanation of pest control and wildlife legislation. He pointed out that the law surrounding wildlife is made complex because of the number of pieces of legislation involved, some going back many years. The contradictory requirements within some of these laws don't help. Paul concluded with some useful advice to all pest professionals.
Regularly review what you're doing and make sure staff are kept up to date;
If you are uncertain about anything get advice;
Avoid work that you're not equipped to deal with;
Cover your back by documenting and recording what you do and why.
| | |
| --- | --- |
| Chris Woodard loves those less loved creatures | Wildlife law is not easy as explained by Paul Butt |
The topic which drew the most heated comments from the floor was, unsurprisingly, rodenticide stewardship. It was disappointing to hear the most vociferous in the audience still looking to shift blame for secondary poisoning of wildlife onto amateur rodenticide users. Policing of stewardship also came up. This is a topic which we will no doubt come back to again and again as stewardship progresses.
On the product front, Brady Hudson from Bell Laboratories covered tamper resistant bait stations and highlighted the very rigorous tests that bait stations have to undergo to be able to claim the USA Environmental Protection Authority (EPA) Tier 1 status. Tier 1 is described as both dog and child proof and Bell's Evo Express and Circuit Ambush products meet this standard. Not all situations call for such high tamper resistance so Bell also produce Protect Shield as an entry level economy model.
Kevin Brown from Rentokil Products went through the technical benefits of using Deadline Alpha Express – an alphachloralose product which offers an alternative to anticoagulant rodenticides for indoor mouse control. He explained how the product has been newly formulated to be fast acting at a very low dose. Just one small scrape of the mouse's incisors on the surface of the block is sufficient to kill. He added that because this is an acute acting product which is not bio-accumulative – essentially it's an anaesthetic – there are no secondary poisoning issues. Kevin also covered the use of aluminium phosphide as an alternative to anticoagulants for vertebrate control.
| | |
| --- | --- |
| Brady Hudson explained tamper resistant box testing | Kevin Brown details Deadline Alpha Express |
BASF's Gavin Wood ran through the benefits of Storm and the new Storm formulations – mini bits (pellets) and a pasta bait – launched at PestEx this spring. He explained how the original Storm blocks have been used successfully indoors for 20 years but now for the first time in the UK Storm can be used both within and around buildings. He emphasised however that because Storm is a powerful, single-feed product, pest controllers must ensure bait is placed in a secure bait point and must use the pulse baiting technique.
Last, but by no means least, Bayer's Richard Moseley looked at the benefits of the novel, freeze dried granular formulation of K-Othrine WG250 and its Eazidose applicator. He explained how its small 40g pack size minimises waste and makes storage easy too. Being a granule it's easy to deal with if there's ever a spill and also the applicator allows the precise measurement of the 0.5g needed per litre of spray mix whilst removing the need for operators to be exposed to the concentrate.
Wrapping up the day Barrettine's Charles Phillips showed a video of the new Aquatain mosquito product now available from Barrettine and the winners of the prize draw were announced. These were: Mike Flynn, Callum Jones and Iain Turner from Alpha Pest Control, Ian Hughes (Stafford Borough Council), Patrick Moss (PM Pest Control), Ray Hindley (Cheshire & Chester County Council) and Andrew McNaught of X-Pests.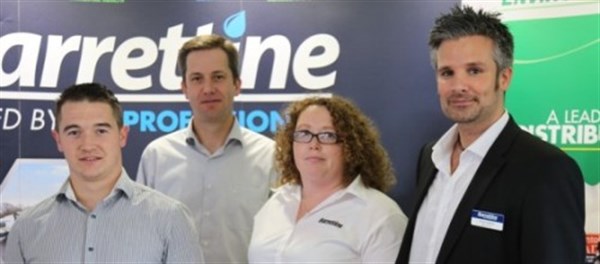 The Barrettine team. Left to right: Josh Randell, Charles Phillips, Helen Ainsworth and David Haskins