Nearly 300 visitors from eight countries came together to attend the sixth Benelux Pest event held on 24 September 2014. Once again, it was held at the Voortse Vallei, next to golf resort Edda Huzid, Voorthuizen in the centre of the Netherlands
The impending ban on the outdoor use of rodenticides in the Netherlands dominated the talk in the exhibition. The ban comes into effect in 2015, unless pest controllers have an IPM certification. Several of the 32 exhibitors had anticipated this ban and they are already offering alternatives, such as specialised bait boxes and sophisticated traps. Other exhibitors had new inventions for monitoring rat and mouse traps electronically using a smartphone.
It is clear that the EU biocide regulation is working wth more companies coming into the market with rodenticide active ingredients listed under the Biocide Regulation Annex 1.

In the afternoon, Roland Higgins, director general of the Confederation of European Pest Management Associations (CEPA) chaired a panel discussion entitled Unknown makes not-loved. He was joined by Jenno Brookman (a trainer from Musca), CEPA treasurer Frederic Verwilghen, Frank Swinkels from the Dutch pest controllers' organisation NVPB and Yvonne van Gorp from the marketing department of KillgermRIWA in the Netherlands.
Roland Higgins started the discussion by declaring: "We are under attack!" Different communities, politicians, media and (environment) groups comment that pest controllers use 'dangerous chemicals'. After an avid discussion, the conclusion was that the knowledge level of pest controllers must improve and it must be made clear that biocides are used without harming domestic animals and wildlife. Pest controllers must show that they work in a decent and professional IPM way. Positive communication in all possible ways is important.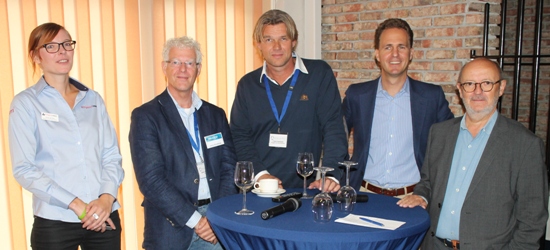 Speakers at the panel discussion. Left to right: Yvonne van Gorp (KillgermRIWA), Jenno Brookman (Musca),
Frank Swinkels (NVPB) CEPA treasurer Frederic Verwilghen with panel chairman, Roland Higins (CEPA)  
In the late afternoon Rob van Veldhuijzen, owner of Van Veldhuijzen-Boxmeer, gave a talk on the transporting and storage of dangerous products. Storing and handling biocides in a proper and safe way not only prevents accidents that harm pest controllers but also safeguards colleagues, clients, other road users. Dutch regulation is very strict and Rob advised those present to always to read all instructions carefully and to follow them to prevent accidents and to avoid punishing fines.

As is the tradition, the day was rounded-off with the Pest Control News dinner.

 

 

  


Rob van Veldhuijzen


Exhibitors and visitors happily networking

 Our thanks to Joeke Nijboer, editor of Benelux Pest Control News for sending in this report.