Who says it always rains in Manchester! It was a beautiful sunny day for the first ever PPC Live event held on 21 May, which, according to early estimates, attracted over 340 pest controllers although it has to be said it felt like more.
Congratulations BPCA
Plenty of people, ourselves included, were sceptical that there was a place for another event in the pest control calendar but we are pleased to report than on yesterday's evidence we were wrong. PPC Live in Manchester was a great success with visitors and exhibitors alike. Congratulations to the British Pest Control Association (BPCA) on a well-run and well-attended first PPC Live.

From the moment the doors opened it was clear that there is a real appetite for this one-day, 'outside London' format. That said visitors were not confined to those from the region. People travelled from as far afield as Southampton – so they had had a very early start. Others had driven up from South Wales and down from Scotland, resulting in the car park being full to overflowing. The bright green turf at the impressive AJ Bell stadium, home to the Salford Red Devils rugby league side and the Sale Sharks rugby union club, provided an immaculate backdrop for the event. 

Shiny and gleaming, the AJ Bell Stadium proved an
excellent venue …

  


… with immaculate backdrop of green grass and easy access for long-haul visitors 

The exhibition hall itself was not enormous but it was modern and bright, packed with plenty of exhibitors and there was plenty for visitors to see.

Opening the event, BPCA president Henry Mott said: "When I and the board set-out a vision to develop a new style of exhibition, we wanted to create an event aimed at allowing every technician, supervisor and manager to access a range of seminars on key topics, plus the opportunity to see a wide variety of suppliers all under one roof. We also wanted to create an event that would move around the UK to reach every pest controller." And he added: "We recognise that attendance costs both time and money, but we believe those who come to events such as this will have an advantage over their competitors who do not attend."

BPCA chief executive Simon Forrester said: "We were very pleased with the support from the sector, and I would like to express my thanks to the companies and individuals who supported the event by exhibiting, speaking and of course attending as visitors."

Smaller and less expensive display stands
The idea was also to create an event where exhibitors could keep their costs down by having smaller 'pop-up' display stands rather than the stands seen at big international events such as PestEx. This might explain why the usually elaborate Killgerm presence was replaced by a small table top display. Similarly P+L, which at other events generally has an extensive presence, had stuck with a more restrained format although its distributor brand, SX Environmental had a separate stand. Barrettine on the other hand had somehow managed to acquire a large double stand at the far end of the exhibition hall in front of the catering area.

 
When the crowds thinned you could get an idea of the scale of the room… 

 


… otherwise it was shoulder to shoulder for visitors
in the aisles

Topical supporting seminar programme
And it wasn't just the exhibition that attracted interest. All the seminars we attended had good sized audiences including the opening session by Pest's own associate editor Helen Riby: "I was a bit concerned that being first-up folks wouldn't have had chance to get their bearings and that the session might have been thinly attended. But clearly people were interested to hear about the joint BASF Pest Control Solutions Pest magazine 'mood of the industry' survey. If you missed it, then look out for a full report in the next issue of Pest magazine."

Wide range of outdoor demonstrations
The outdoor technical demonstrations, which were held pitch-side, drew plenty of interest too. These covered hawking, urban bird control, the use of live traps and ultra low volume space spraying as well as a bed bug detection dog demo. A sudden gust of wind during the 'Preparing for the Wasp Season' demonstration of the XL8 telescopic lance by Lance Labs gave the audience a light dusting. However jokes about not having any wasp problems on the homeward journey were completely unfounded as the demonstration dust was talcum powder, not Ficam!

First on, but still a respectable audience. Helen Riby reveals the initial survey results

 

The sunny weather encouraged delegates to attend the demonstrations

The BPCA prize wheel proved very popular, with pre-registered delegates able to take a spin of the wheel and win a guaranteed prize from one of the exhibitors. Aside from the wheel, several other lucky delegates went home with prizes from England football shirts to hand-held foggers, all donated courtesy of the suppliers at the event.

There was one disappointment for those hoping to hear the planned panel discussion at 14.00 on 'What clients are looking for in a pest control contractor'. Unfortunately BPCA was let down at the last minute by some of the panellist so rather than go ahead with a depleted panel the decision was taken to cancel the session. It's further evidence that pest control is the industry that dare not speak its name. Hotels, food manufacturers, utilities and the like all rely on pest control to keep their businesses going but when they are asked to talk about it …!

The next PPC Live event will be held in two years time and BPCA is already looking for a suitable venue. All we know is that it won't be in London, so watch this space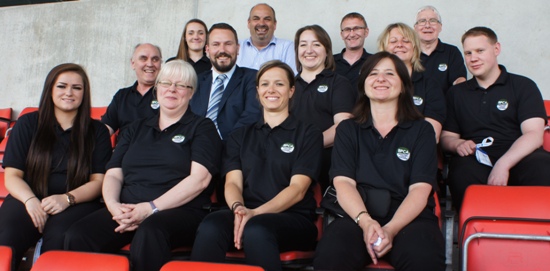 Well done to the BPCA team