The world's most famous mouse, Mickey, must have been forewarned of the industry's arrival in the heart of Disney World for what must be the globe's largest professional pest control event, as he was nowhere to be seen! Despite this there was much to see and learn.
Mickey Mouse might have taken fright, but this is America after all, so expect some razzmatazz. And at PestWorld you were not disappointed.
After the formal welcoming speeches at the general opening session delegates enjoyed the musical talents of Rhythm Extreme. On a assortment of drums and bins, this group of energetic young things crashed, banged, tapped, kicked and slammed a welcome to those present. As a group discovered on America's Got Talent, readers will undoubtedly get the idea! Their finale was PestWorld in lights.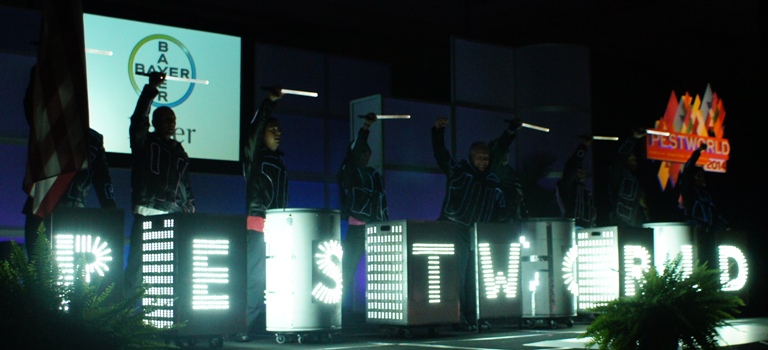 Motivational speakers
At the general sessions on the other two days, more traditional invited speakers took to the floor. The first being Eric Greitens – a name maybe not familiar to most international guests – but having served as a Navy SEAL, (United States Navy's Sea, Air, Land Teams) which is somewhat akin to being in the UK Special Air Service (SAS) his presentation was all about reaching your target. "Everyone has a front line in your life. You need to work out how to navigate to your own front line," he explained. Going on to say: "People are usually overwhelmed by 'How', but by making a series of small manageable changes, over time you can change your course of direction." 

The second motivational speaker was professional sports agent, J B Bernstein, who extolled the virtues of how passion is the key to leadership. Rather along the lines of America's Got Talent, he spoke at length about his quest to search for the next baseball stars from a truly unlikely place – the cities and villages of India. You can read more about this here or go to see the film which has just been released – Million Dollar Arm.

Public lost perspective
Celebrities aside, head of Bayer Environmental Science in North America, Chris Pienaar, delivered some pithy comments in his address. He pointed out that the industry is facing an ever increasing number of products banned or restricted in use. Two-thirds of the development costs of a new active ingredient are now accounted for in support and regulatory requirements. Yet, he exclaimed: "The public has lost perspective of what life would be like without structural pest control. We are being taken for granted. The industry has created a pest free environment where people live, work and play."

As always the range of technical sessions was vast – from ticks to wood destroying insects and ants to arthropods but it is the main stream sessions which attract the largest audiences.

Always an excellent speaker, Bobby Corrigan addressed several rodent topics. Picking-up on the Disney theme, he asked why the general public seemed prepared to put up with mice but not rats – was it the influence of Mickey Mouse? Music to the ears of some rodenticide manufacturers with fluorescent bait products was his view that it should be mandatory that all baits for mice should contain a fluorescent marker.

Bed bugs close the sessions
There's a saying 'Leave the best till last' but it was a shame this happened to be what were perhaps two of the best sessions of the programme – both discussing bed bugs. Although it was standing room only, a larger venue would no doubt have been required had these been earlier on in the programme. Dr Phil Koehler and his team, Ben Hottel and Roberto Piereo, from the University of Florida at Gainesville explored the theories as to why bed bugs move – like lots of creatures – food, shelter and sex being the prime motivators!

    


NPMA president, Billy Tesh, welcomed
everyone to PestWorld

 


Chris Pienaar from Bayer told delegates
they had really done too good a job
protecting the domestic environment


PPMA president, Russ Ives, gets their report off to a vocal start! 
Maybe all association reports should be sung?



A real live pest! Management rather than
control is the name of the game with alligators

Last of all, Virginia Tech's Dr Dini Miller delivered one of her brilliant 'give it to them straight' talks on bed bugs. She said that in the 10 years since these pests really became an issue, people still loose all sense of rational behaviour should they come face to face with a bed bug.

Exhibition large but not much very new
Whilst bed bugs attracted a crowd in the sessions, on the exhibition floor their presence was noticeable by their absence. Say, five years ago, you couldn't move for yet another new bed bug device or treatment method featured on a stand. Whilst there was one new trap spotted on the BedBug Central stand – the SenSci volcano – and a modification to the well-respected ClimbUp monitor from Susan McKnight – there was little new to report on this front.

To be honest, the exhibition may have been a sell-out but there was little new to set the pulses racing anywhere in the exhibition – no big new launches at all – but certainly some useful product refinements.