BPCA has won the Association Excellence Award for 'Best Lobbying Campaign or Advancement of a Cause During COVID-19'.
BPCA was shortlisted in three categories:
Best Lobbying Campaign or Advancement of a Cause During Covid-19 (more than 500 members);
Best Membership Support During Covid-19 (under 800 members); and
Best Online Learning and Professional Development Programme.
The award was based on the Association's work to get pest management recognised as an essential sector at the beginning of the first lockdown in March 2020.
Following extensive lobbying efforts to government ministers, local councils, schools and the media, pest management workers were formally acknowledged as key workers in Northern Ireland on March 26, 2020, and in England on April 13, 2020, with Scotland and Wales following suit shortly afterwards.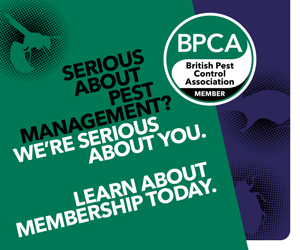 Scott Johnstone, BPCA's marketing and communications manager, said: "We're absolutely delighted to have won the award for our work during COVID-19.
"Pest management can all too often feel like an invisible industry. For a few moments the entire UK recognised the work we do to protect public health and society as a whole.
"Pest management is critical. Our workers are key. Thank you to all our members that helped us get the recognition you all deserved."