It should come as no surprise that the impact of the shock result in the referendum on the UK's continuing membership of the European Union came top of the most well read stories in our 2016 best read web articles league. It was, after all, probably the biggest news story of the year for us Brits!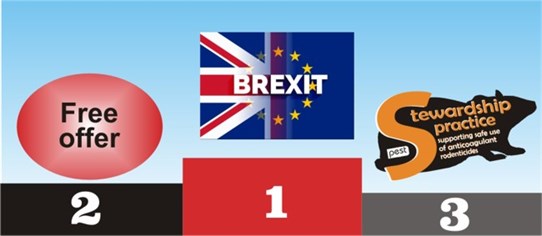 The full top 15 league table is listed below.
Story number two – an offer of a free trial from Russell IPM – proves that many of our readers can't resist the chance of getting something for nothing.
Not all of the stories were posted in 2016. In third place was the article about rodenticide stewardship getting the official go ahead, Dare we suggest this indicates there were a good number of pest professionals who hadn't kept up with the stewardship story in 2015? The good news is that they have caught up now.
Also from 2015 were the articles in fifth and sixth position. Article five on Rentokil's acquisition of Prokill didn't surprise us here at Pest. We've noted before that any news about the UK's biggest pest management business always attracts attention. Our theory is that many pest professional started their careers in Rentokil in the days when the company was known as the training ground for the UK industry and they can't help but want to keep an eye on how it's performing. In addition of course, news about such a large organisation is clearly of interest to those watching the UK and indeed the global pest management market.
Measuring readership of website items is rather like trying to pin jelly to the wall. It's impossible. These figures cover the period 1 January 2016 to 31 December 2016 so they provide a snapshot of what people visiting the Pest website were reading over that period. The list contains just one article posted in the last quarter of 2016 but that doesn't mean the others posted then were of less interest. Indeed some may well appear in 2017s top 15 league table.
The use of glue boards was in sixth place. This is always a controversial topic and we suspect that many of those accessing this article in 2016 may have been from outside the professional sector.
Articles about regulation always attract interest as, unsurprisingly, do those about new products such as the news at number nine this year of what is believed to be the world's first rodent attractant and the round-up of what was new at the German Pest-Protect event last February.
Finally, the article at number 14 was on the massive fine imposed for the illegal use of pesticides shows, we all like to read about other people's bad practices!
Top 15 articles on Pest website in 2016