Terminix UK said it has been really impressed with Selontra, the high performance non-anticoagulant rodenticide bait, launched by BASF at the end of 2020, which can help maintain faster control of rodent infestations, even in the most challenging situations.
Selontra is a cholecalciferol-based product, and its mode of action differs greatly to that of typical rodenticides. The largest benefit being that Selontra is highly palatable to rodents and most infestations can be controlled within seven days.
Cholecalciferol is neither persistent in the environment, nor bio-accumulative, and is readily metabolised by rodents.
Anthony O'Hare, BASF's UK country sales manager, said: "Selontra has taken 10 years to develop, and we are delighted to be working with Terminix UK to not only train their staff on the effective and safe use of Selontra, but to provide an effective solution which is fast acting while balancing performance and environmental impact."
With the support of a number of our customers and no risk to the environment, Terminix embarked on a number of field-based trails to test Selontra in several different environments.
At one of the trial sites, there was rodent activity stemming from a subfloor void beneath site and had become a breeding site and feeding area which gave us a unique opportunity to test Selontra.
Working closely with BASF and the client, Terminix ensured that the environment was suitable for the Selontra and removed all competing foods.
A speed baiting technique was used to reduce the baiting period, treatment frequency, damage and overall control time. Selontra was introduced into the breeding and feeding areas using wires to reach the underfloor voids without actual physical entry.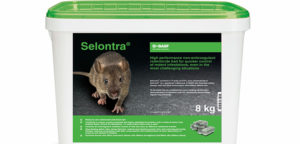 Terminix said: "We are pleased to report that by day three all the bait was completely taken from the void areas, and the site was eerily quiet in comparison to when we started the treatment and clearly showed that Selontra had had an immediate impact on the pest infestation.
"After a further five days the bait take had stopped, along with customer sighting reports, giving us control of site for the first time in months. Full proofing works were then undertaken to deny the rodents access to the site and to provide long term protection."
Terminix said the trial confirmed that Selontra – when used against both Brown rat (Rattus norvegicus) or House mice (Mus musculus) under the correct conditions, with strict controls – had the desired effect and we gained control in around seven days.
Based on its trial findings, Terminix has now added Selontra to iuts approved product list and all of its field-based technicians are undergoing BASF product training certification to enable them to use Selontra safely and effectively.
James Gilding, managing director at Terminix UK, said: "We are proud to be working with BASF to provide a safer and greener solution for solving challenging pest infestations."