Pest controllers score highly for recommendation by word of mouth in an exclusive survey of property related services undertaken by SellingUp.com.
The survey, conducted for SellingUp.com with online polling firm Toluna, asked 1,000 UK residents which services they had ever used and whether they would recommend the company employed. Twenty sectors were covered, including pest control, spanning a range of services to do with buying/selling, refurbishing, maintaining and managing residential property.
In the survey it asked: "If you have ever hired any of the following home-related services, for which if any, would you recommend the company to a friend?"
Answer options to the question were:
Have used – would recommend a company
Have used – would not recommend a company
Never used
Good news for pest control
For pest controllers, the survey revealed that pest control is one type of service that nobody ever wants to hire, as only 17.4% of respondents revealed they had called upon a pest controller.
But for those who did, in a moment of crisis no doubt, it's vital that the service offered successfully dealt with the unwanted intruders. The positive news for our industry is that of the few people who did call a pest controller, a large percentage (60.34%) of customers would refer the pest controller they hired to others, suggesting that most of the time you are delivering a good service.
These figures compare very favourably to a somewhat allied industry, damp proofing, as here a virtually identical number of respondents (17.3%) said they had called upon their services but only 49.7% said they would recommend the firm used.
Interestingly, another sector many of us would certainly classify as a 'crisis' service – IT home support with a vey similar hiring rate (19.3%) scored considerably higher on the recommend to others scale at 65.2%.
A table summarising the findings is below.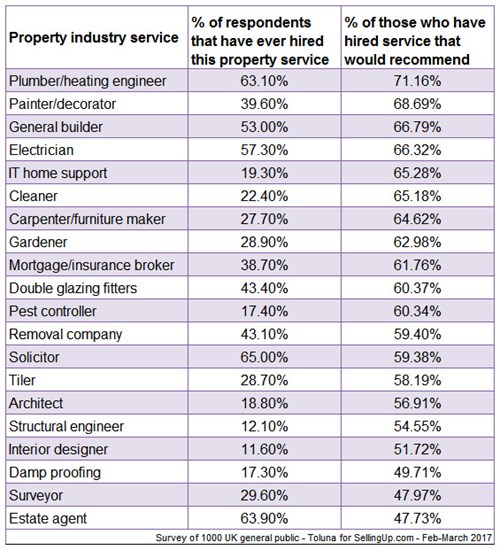 Traditional trades come out on top
Of those who had used a particular service, most likely to be recommended by customers were plumber/heating engineer (71.16%), followed by fellow trades painter/decorator (68.69%), general builder (66.79%) and electrician (66.32%).
Estate agents located at the bottom
The majority of the sectors were in the positive, meaning that more than half of people who had a used a company would recommend them; the exceptions being damp proofing (49.71%), surveyor (47.97%) and – located at the bottom of the list – estate agent (47.73%).
About the survey
1,000 members of the UK general public were surveyed by online polling company Toluna on behalf of SellingUp.com. The respondents age ranges were 18-34 = 28.9%; 35-54 = 37%; 55+ = 34.1%.
61.8% of respondents were female and 38.2% male.
Geograhically, South = 42.4%; Midlands and Wales = 22.6%; North and Scotland = 32.2%; Northern Ireland = 2.8%
The survey was conducted on 8 February 2017