What's your opinion? Over the last few weeks both the national and local press have been over-run with stories of giant rats. The whole giant rat story got out of hand with an almost limitless series of additional rat topics introduced and, worse still, incorrectly reported. Does this help or hinder our professional industry?
We thought our readers at Pest would be interested to see what has been circulating in the wider press – we have captured the flavour of some (by no means all) of the coverage below.
Tell us what you think
What are your views? Do these scare stories increase the market for you? Do they make your lives easier or harder? Have clients mentioned this coverage to you? Do you feel it makes our industry look more or less professional? Is this helpful in the industry's current discussions with the Health & Safety Executive (HSE) regarding maintaining the use of second-generation anticoagulant rodenticides? Should bodies like the British Pest Control Association (BPCA) or the National Pest Technicians Association ((NPTA), who represent your interests, be putting-out stories like this to the general media?
Let us know how you feel. Email your views to the editor. We promise not to attribute comments to you without your prior consent.
So – what's been going on?
People, pest controllers included, love recounting how they have caught 'the biggest this or the largest that', but, what is believed to have started as something of a PR exercise by Sean Whelan of Southampton-based Whelan Pest Prevention who claimed rats were turning into super rats and came up with a recently caught two-foot sized example, things seem to have got totally out of hand.
In true tabloid style the story got picked-up and re-worked. On 14 April it made the front page of the Daily Mirror with two further pages inside – see below.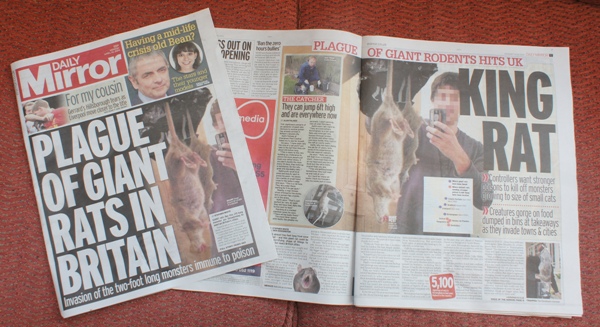 The Daily Mirror – 14 April 2014
Not to be outdone, the story also appeared in the Daily Mail, where the rodents had become the size of cats, in the Daily Telegraph and the Daily Star, where Phil Duncan, a Whelan Pest Control employee was featured holding a giant rat. And, with Whelan offices also in Liverpool, the story in the Daily Star implied that this city was now invaded by these mutant super-rats.
TV got involved with a piece featuring Sean Whelan himself on the children's CBBC programme and the story even went global with news stories as far away as in the Bangalore Mirror in India.
Not to let a good bad news story escape attention, Liz Hurley suddenly had super rats according to the Daily Star and the Mirror with pop festivals, such as Glastonbury, now reported to be under threat in the Mirror.
The media has certainly gone into overdrive on this story and all sorts of supplementary issues have been dragged in such as rodenticide resistance, approval from the Health & Safety Executive for 'stronger poisons', litter in towns, the winter floods and cut-backs in pest control by local authorities, to name but a few. 
And, if this were not enough, the Daily Mail is also telling the general public that the rat population will soar from 80 million to 160 million by the end of the year (now where did these 'facts' come from?) and to show how much research work tabloid journalists do, Oliver Madge was quoted on 23 April 2014 in the Daily Star as the boss of BPCA (he left in November 2009!).
Not all quite so bad
Some better balanced pieces have appeared, such as in Wigan Today where local Elliot Lowe of Swinley-based Cavalry Pest Solutions is quoted, or in the report and video clip in the Lutterworth Mail where Daniel Sumpter, of DKS Pest Control based in Desborough, appears. Good as these are, it is hard to compete with articles and opinions expressed in the national press.