At its quarterly meeting in Brussels on 13 December 2017, the Confederation of European Pest Management Associations (CEPA) confirmed the appointment of the consultancy, Darwin Associates, to take charge of running the CEPA secretariat in Brussels as of 1 January 2018.
The appointment of this consultancy comes as a result of the retirement of Roland Higgins and his team, who for the last seven years has run the CEPA secretariat. During this time, Roland has worked with three CEPA presidents, namely Gunnar Akerblom, Patrick Verniá© and Bertrand Montmoreau. A highlight of this period has been the launch of the EN16636 CEPA Certified standard for pest management. Today, the standard is used by approaching 400 pest control organisations across Europe, setting the benchmark for the professionalization of the sector.
Earlier this autumn, Pest associate editor, Helen Riby caught up with Roland to explore his thoughts and views on progress made within the industry. This article appeared in Pest 54: December 2017 & January 2018.
Henry Mott, the recently appointed new CEPA president, commented: "We are extremely thankful for the work that my predecessors and the CEPA secretariat have done to set the ground for professional standards at EU level. My mandate will focus on taking the EN16636 CEPA Certified standard to the next level; making it a broad self-regulatory principle throughout Europe. Local communities in Europe deserve professional pest management control. I am certain that together with the national and local authorities of each European country we will be able to deliver soft-law agreements that will help the daily lives of families and businesses."
A splendid Waterford crystal bowl and glasses set
were presehnted to Roland Higgins

And Henry gave Michel Tulkens a lovely
Waterford Crystal decanter
As CEPA president, Henry took advantage of the gathering to formally thank Roland and his colleague Michel Tulkens, who has held responsibility for strategy and finance. Reflecting the gifts of Waterford crystal, Henry said: "You have had real difference to our industry. You have had a crystal clear vision of where the industry should go – to a position of excellence."
Out with the old, in with the new
Although the official change of roles does not become effective until 1 January 2018, Henry took the opportunity to introduce the new CEPA team. He explained that in their recruitment there had been a clear analysis if what was required. Whilst several of those interviewed could fulfil the administrative part of the role, it was felt the chosen pair could bring new thoughts, new ways of thinking and, most importantly, new ways of communication.
The new team is to be led by Paloma Castro, who takes on the role of executive director, and she will be supported by James Ogilvie as operations director – a role which will effectively place James as the 'outside face' of CEPA. Both come extremely well equipped for their roles, with considerable experience of working within the political 'Brussels bubble', with trade associations and working alongside, or within, a range of high profile companies.

Coming to CEPA afresh, their view of the position held by CEPA within Brussels is most gratifying. As James said: "CEPA is seen as a positive stakeholder. As an association CEPA is doing well and has a clear plan. We are not looking to radically change direction – just to keep things running smoothly, whilst at the same time, introducing some new ideas."

James Ogilvie with Paloma Castro
Reiterating this, Paloma explained: "We need to build on what has already been achieved, to gain a competitive advantage that Brussels will recognise and so exploit. We plan to create more digital and reactive information tools that national associations can use at a country level."
We all wish this new dynamic duo the very best of luck and will look forward to working with them as from
1 January 2018.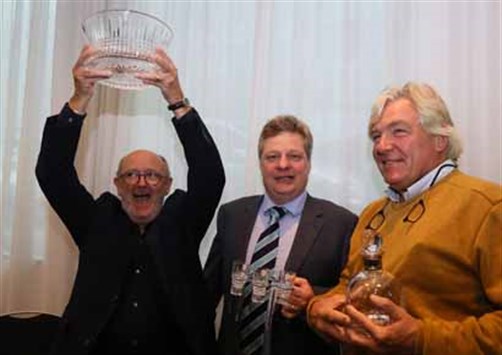 Is it a football match Roland has won?!