The great and the good from the world of heritage conservation gathered in London on the evening of 27 April 2018 to celebrate the publication of English Heritage's latest title: Pests In Houses Great & Small.
Over 40 invited guests gathered on the evening of 27 April in the meeting room on the top floor of Wellington Arch, situated right bang in the middle of Hyde Park corner.
Curatorial Director at English Heritage, Anna Eavis,
welcomed the guests and congratulated the
team on the production of the book 
Welcoming everyone, Anna Eavis, curatorial director at English Heritage said: "The publication of this great little book is a milestone in the world of conservation. Not only does it appeal to experts in this field, but it is written and presented in a very attractive and easy to follow manner, such that it will also appeal to the general public.
"The authors are to be congratulated. With Dave Pinniger's technical expertise and Dee Lauder's enthusiasm, between them they have transformed English Heritage's approach to conservation."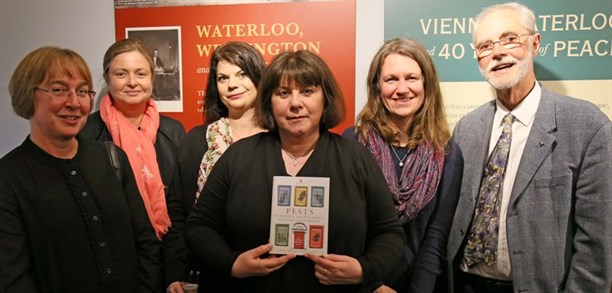 The team behind the book. From English Heritage, left to right: Anne McCarry, Amber Xavier-Rowe,
Hannah Faux, Dee Lauder (co-author), Jen Cryer (editor) and consultant Dave Pinniger (author)
Responding to this praise, Dee Lauder, co-author and collections pest control manager at English Heritage, was quick to praise her colleagues saying: "In her role as head of collections conservation, Amber Xavier-Rowe has supported and encouraged our quest in the prevention of damage from pests within the English Heritage collections.
"Production of the book was very much a team effort, not only by Dave but also by Jen Cryer who edited the book, was responsible for its production and generally kept us in order."
The last word goes to co-author Dave Pinniger who explained: "I have wanted to write this book for years, in fact it was 15 years ago we started working together putting together a programme of Integrated Pest Management for the collections. My thanks goes to the English Heritage team, but also to Adrian Meyer who helped us with the mammalian and bird sections of the book."
A lively exchange of news and views. 
After drinking a toast to the new book!

Author Dave Pinniger (left) with
entomologist George McGavin and
House Guests: House Pests author, Richard Jones
This 132 page, very readable and well illustrated book can be bought in English Heritage gift shops (or online), good bookshops such as Waterstones and also online via Amazon. Price £14.99
An unusal location – but one you can visit
With a portfolio of over 400 English historic buildings, monuments and sites within their care, English Heritage had the choice of a wide variety of stunning venues to hold this celebration. Wellington Arch, right in the centre of Hyde Park corner in London was selected. Most of us just catch a glimpse of this building when whizzing around it in the traffic and assume it's no more than a very grand monument. Not so. It houses a gift shop, small museum obviously concentrating on the Iron Duke, Wellington, and a meeting room suitable for meetings and receptions. The crowning glory is access to the outside walkway around the top of the Arch to experience the views of London. Definitely worth a visit.