PestTech, the one-day event for pest professionals with a focus on those working at the sharp end, travelled south to the Arena MK, Milton Keynes on 7 November. For the second year running visitors and exhibitors alike had to get used to a new venue. Chatting to attendees it was definitely a case of: 'You can please some of the people, some of the time, but never all of the people, all of the time.' So what was our verdict on the day?
In terms of visitor accessibility, for anyone approaching from the M1, the new venue is excellent. The road network around Milton Keynes makes the drive pleasurable. Of course getting down or up the M1 first thing in the morning may not be so easy but the same could be said for the previous venues, so no change there.
As for exhibitors, access for build-up couldn't have been easier. For those with small pop-up stands like ourselves it was a short and, importantly, flat walk into the exhibition hall. The big displays had drive in covered van access at the rear.
Parking was also easy and, in contrast to the Coventry Ricoh last year, no pre-authorised tickets were required. It's simply free. OK, some people ended up doing a circuit of the massive stadium before finding the correct end to park but there will be fewer doing that next year now they know the way! And, yes, we can confirm that PestTech will be at the Arena MK again in 2019. The date for your diary is Wednesday 6 November 2019.
Seminar arrangements worked well. There was plenty of seating and, contrary to our expectations when we heard the seminars would be 'on the balcony', the acoustics were fabulous. No need for those listening to wear headsets. Speakers used modern headset microphones – chairman for the seminars John Hope from organisers, the National Pest Technicians Association (NPTA) commented that he felt like a pop star when he was mic'd up – and, remarkably, there was zero background noise coming up from the exhibition below.
The programme was interesting but, unfortunately, two speakers failed to show. The lack of communication from Reading University about their speaker's illness meant the Pest Control News workshop was unable to run and that was a shame as the topic – Tales of resistance – is one that every pest professional needs to be aware of and the seminar area was packed for this session only to hear that it couldn't proceed as planned.
| | | |
| --- | --- | --- |
| Butler's Pantry ran a live demonstration butchering a deer which drew the crowds but wasn't to everyone's taste | | Caricature drawings by Simon from Scartoons proved very popular  |
New product wise we spotted a couple but you"ll have to wait for the next issue of Pest magazine due out early December to read more about those!
Among the visitors we did hear some mutterings about it being too far south – and some were suggesting that PestTech should follow the PPC Live format and become a travelling exhibition. Our view is that taking it on the road would be counterproductive. Organising such an event is complex and the first time at any venue takes double the effort. Far better for NPTA to use its limited exhibition organising resources at a fixed venue and leave the travelling to BPCA which has the staff numbers to cope.
Being at a fixed venue is also easier for both exhibitors and visitors who 'get to know the ropes' so, all in all, staying in one place, at least for a few years, is, we believe, the best way forward. And, yes, Milton Keynes is a bit further south but only around 60 miles or so from the old National Motorcycle Museum venue and there are plenty of accommodation options from small bed & breakfast establishments via Travelodge and Premier Inn to upmarket four star hotels.
In terms of numbers, exhibitor stands at 50 were slightly down on 2017 when there were 54 stands but the number of visitors was essentially the same – 11 fewer we heard so still over 1,000.
The NPTA did experience some major internal event admnistration problems in the run up to this year's event and that probably explains the lower exhibitor numbers. Those exhibitors who attended however seemed generally happy with the turnout although cost of stands was commented on. Evaluating the cost benefit of attending a show is not a precise art but NPTA needs to be aware that exhibitor's pockets are not bottomless!
All in all, however, our verdict is it was a good show. Congratulations to all concerned and particularly to the NPTA volunteers who stepped in at short notice to sort out those show administration problems. We look forward to PestTech 2019.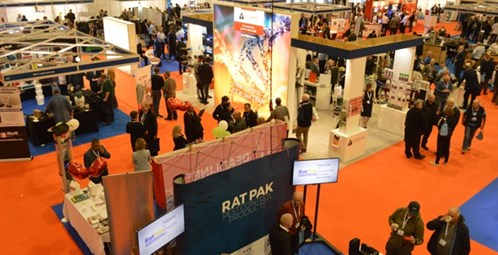 The seminar balcony provided an 'aerial' view of the show