Another year, another venue for PestTech! This time the Arena MK in Milton Keynes, the home of the MK Dons and, believed by many to be, the centre of the universe. It is certainly a fine venue with excellent facilities for a seminar programme. The presentations themselves were varied, spanning business, regulatory and practical topics and all were well attended.
Chairman for the day was NPTA's new technical manager John Hope and in his introductory session John explained a bit about his wide ranging pest management background and his new role providing a second pair of eyes for NPTA members. John's pest control experience which spans some 25 years. He started out in London as a PCO before, at the age of 36, deciding to go to university with a view to becoming an Environmental Health Officer (EHO). John did qualify as an EHO but as he explained pest control gets into your bones: "You either do the job for two weeks and decide it's not for you or you're a lifer – I'm a lifer," he said.
Understanding each other
Bayer's Richard Moseley spoke about what British Retail Consortium (BRC) members want from pest control drawing on survey work undertaken for Bayer.
The key to a good business relationship is that all partners understand each other. How true is that between food processing/preparation businesses and their pest control contractors? Bayer has undertaken in depth interviews with five large pest control companies both in the UK and the USA. These were then followed up with 200 telephone interviews with pest control technicians by Bayer and an online survey of a similar number of Food Safety Managers, carried out by the BRC.
Not surprisingly differences in perceptions and priorities between the two cohorts were highlighted. Amongst pest controllers the emphasis was on the site, the problems and how to deal with them….and of course the price! Clients were less concerned about the cost of the service (pest control industry take note) but looked for high standards of professionalism and experience in their pest controller; an appreciation by the pest controller of the needs and objectives of their customer and a clear understanding of the audit regime that the client has to work to.
The survey is certainly food for thought and pest control businesses would do well to find out more about the results of this survey.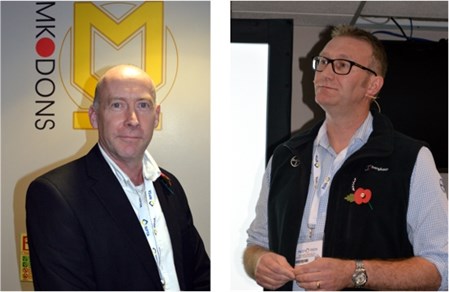 Speakers: left to right: David Cross from RAMPS UK and Richard Moseley from Bayer 
Aluminium phosphide update
Chairman of RAMPS-UK, David Cross provided an update on the use of aluminium phosphide for vertebrate pest control.
A year ago pest controllers were confronted, many for the first time, with a range of new label requirements that they would have to meet if they wished to continue to use aluminium phosphide. These changes involved (for most) investment in new equipment, elaborate arrangements for isolating treatment sites and what appear to be a complete reversal of some long followed practices.
David emphasised that RAMPS was not the architect of the new requirements and that the organisation could not arbitrarily overturn them. RAMPS would, however, be working closely with UK product suppliers and regulators to mitigate the impact of the new label requirements on users.
'When an Inspector calls'
On Wednesday however, an inspector did not call! Regrettably the speaker for the session on the Wildlife Incident Inspection Scheme (WIIS), Martin Ball, was unwell. His place was valiantly filled by NPTA's Iain Turner who did an excellent job working with Martin's slides. Before describing the aims and objectives of the WIIS (Wildlife Incident Inspection Scheme), Iain outlined the role of Chemical Regulation Division (within which WIIS is located) and how as part of the Health & Safety Executive it fitted into the general regulatory infrastructure.
WIIS is a reactive scheme enquiring into unusual or unexplained deaths of wild, domestic and companion animals that may have been caused by the misuse or abuse of pesticides. Data has been gathered year on year, since the 1960s and so the scheme provides not just evidence in individual cases, but trends in animal poisonings over many decades.
Suspected poisoning incidents at work will be investigated by HSE, whilst in domestic situations, by local authorities. Either way the authorities will be seeking hard evidence. Iain emphasised the importance, therefore, for the pest controller, to maintain a 'paper trail'. He stressed that Environmental Risk Assessments were as vital as full and accurate treatment reports. Whilst the importance of the latter was widely understood, Iain questioned whether pest controllers have yet grasped the importance of the former.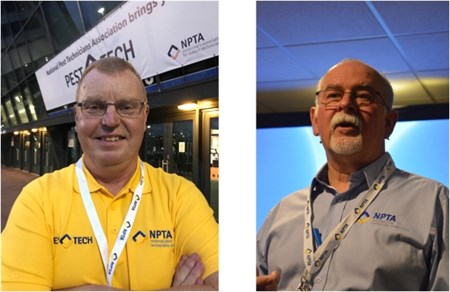 Chairman and first speaker, NPTA's Hogn Hope, left, with Iain Turner who
stepped in to cover the Wildlife Incident Investication Scheme session 
Pest Control News workshop abandoned
The seminar area was packed out for the Pest Control News workshop with pest controllers keen to hear Tales of Resistance from the University of Reading's Emily Coan. Unfortunately it turned out that Emily too had been stricken with some unknown illness but, unlike Martin Ball, had not even managed to email over her presentation.
Indeed it was only during the announcement by NPTA's Ian Turner that the speaker was not yet present but he hoped on the way that the news arrived that she had been taken ill.
Iain was unable to cover this talk in any great depth but he did point out that Reading University has European funding available so that pest professionals sending in rat or mice tails from areas where data is currently lacking can get resistance testing done for free. Tails need to come from animals that have been live trapped, caught by dogs or shot i.e. no rodenticide used. He referred delegates to the interactive maps on the Rodenticide Resistance Action Committee website. Those who are interested in supplying tails should email Emily for full details on the requirements.
Wildlife sessions
Rounding off the day were two 'wildlife' sessions.
Abigail Reade from the Tree Bee Society explained how pest professionals can add swarm collection to their services by participating in the training programme offered by the Tee Bee Society. Once collected swarms are simply despatched to Abigail and her colleagues for re-homing.
Finally Simon Whitehead from Parkfield Ferrets concluded proceedings with a talk on rabbiting in the past, present and the future. His view is very much that even in our technologically obsessed world there is a good future for traditional control methods including ferreting, cage trapping, fencing and the rabbit drop box.