With over 90 exhibitor's stands to visit virtually every aspect relating to commercial pest control was on show – not just from the UK – but from around the world. In total, 44 exhibitors came from abroad and 23% of all visitors where overseas based.
Rodents and all means of their control featured prominently. With the second generation anticoagulant rodenticides (SGARs) very much under the spot-light (see seminar report), in true entrepreneurial spirit, the industry is responding and is coming-up with non-toxic alternatives – traps and non-toxic attractants for example. The range of new mechanical methods and lures from Futura, first reported on at Eurocido, is now being extended and also cloned (see Russell IPM Snap Trap & Gels) – as they say 'the highest form of praise is imitation'.
Accompanying these developments come ever more sophisticated means of monitoring and reporting. Several software management data handling systems are becoming established (ServeSuite for example) and at least two rodent monitoring devices based on radio technology made their debuts – Kill-@lert from Woodstream and the Wedge from Killgerm.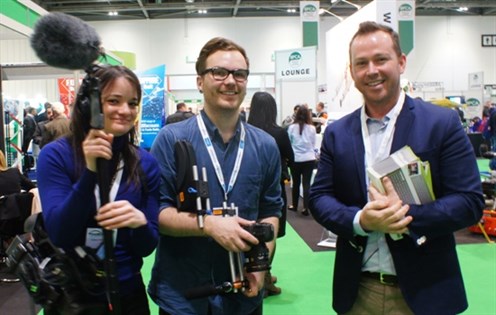 What was unusual was spotting a film crew (as above) interviewing exhibition visitors. It turned out they were representing a pest control company from Australia – Competitive Pest Services – who were trying to recruit two technicians to work down-under for six months during the country's summer season.
The forthcoming edition (Issue 38: March & April) of Pest magazine will contain a run-down of new products spotted at PestEx – here we bring you a photographic round-up to capture the spirit of the event.
| | | |
| --- | --- | --- |
| Woodstream launched Kill-@lert… |    | Whilst Syngenta made a big corporate splash |
| There were established companies – such as the PelGar team. L to R: Richard Applegarth, Alex Wade, Gareth Capel-Wiliams, Nic Blaszkowicz and Vincent Russo | | With new faces like Patrick de Vos and Makesafe |
| Recently established 1Env put on a good show | | As did PestFix who were joined by Bird-X from the USA |
| Not to be left out, Killgerm had a large and bright stand | | Pelsis combined SX with Insect-o-Cutor and Network |
| From the USA, Bird Barrier teamed-up with PestTrader | | Whilst Orkin searched for new international franchisees |