The 2015 Pest Control News (PCN) workshop held during PestTech provided ample opportunity for pest professionals to ask questions about the new Rodenticide Stewardship Regime. What was particularly striking was the quality of the questions that came from the floor.
This was the fourth year in a row that issues to do with rodenticide stewardship have been the subject of the Killgerm Group's PCN workshop at PestTech. And, for the fourth year running there was standing room only in the Ballacraine Suite at the National Motorcycle Museum for the workshop. Opening the session Killgerm's managing director Rupert Broome made no apology for addressing the same topic but, he stressed, that it's now much more about implementation rather than debate about the content. "Everyone in this room will be critical to its success," he said.
Rupert introduced the expert panel before handing over to Dr Alan Buckle chairman of the Campaign for Responsible Rodenticide Use (CRRU), the organisation tasked by the regulator, the Health & Safety Executive (HSE) to develop the stewardship regime.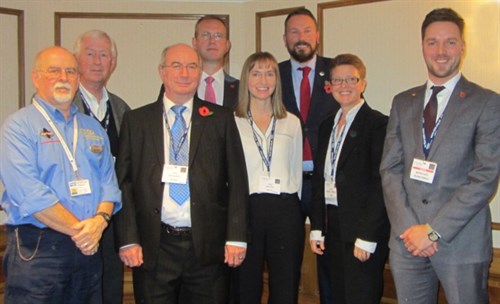 The expert panel, from left: Iain Turner representing the National Pest Technicians Association (NPTA),
Dr Alan Buckle chairman of CRRU, Dave Oldbury representing the National Pest Advisory Panel (NPAP),
Killgerm's Rupert Broome leading the stewardship Point of Sale work group, BASF's Sarah Bull l
eading the stewardship Regulatory work group, Simon Forrester representing the
British Pest Control Association (BPCA), BPCA's Dee Ward-Thompson leading the stewardship
Best Practice work group and Killgerm's Matt Davies leading the
stewardship Training & Certification work group
Alan gave a brief resume of the background to stewardship and how implementation is being managed by CRUU. He stressed that effort has been made to spread the workload with six work groups being set-up to implement stewardship.

Alan also emphasised that the stewardship regime is far from perfect.

It has of necessity involved many compromises. And he asked his own first question – the one on many people's minds – what if the success criteria specified by HSE are not met? Alan's view was that if stewardship does not result in a significant reduction in rodenticide residues in barn owl livers then HSE is likely to stop the use of anticoagulants in open areas. If that too fails then he anticipates that HSE will make all anticoagulant rodenticides 'indoor only' products. So, if this doesn't work, we could find ourselves in a very difficult position indeed!

But what other questions were on people's minds at PestTech?

Q Is permanent baiting a 'no no' under stewardship and what does stewardship have to say about the duration of baiting programmes i.e. what about the 35-day rule?

A We do not yet know what will be on the new labels – this is between HSE and the manufacturers – but there will likley be something about the length of baiting programmes. If control has not been achieved after 35 days then it is surely reasonable to re-think the control strategy as clearly something is not working. Toxic bait, permanently available in boxes around perimeter fences as a monitoring system, has contributed to secondary poisoning of wildlife. It is not a business model that should be adopted as a matter of course. Clearly there may be situations where there is constant re-infestation. In such circumstances the key is to document what is happening and, rather than labelling it 'permanent baiting' let's say 'ongoing baiting'.

Q Who will enforce stewardship?

A Whilst it is true to say that stewardship is voluntary, don't forget that all rodenticide authorisation holders in the UK are fully engaged in CRRU and stewardship. That means that supply will be restricted to certified users. In addition, all existing enforcement still exists – Wildlife Incident Investigations Scheme, Predatory Birds Monitoring Scheme, Natural England prosecutions and so on. BPCA and NPTA have both adopted the CRRU UK Code of Best Rodenticide Practice as a condition of membership so if members fail to follow it then these trade associations need to know. Sanctions are available and if the offence is very bad then reporting wrong doers to the authorities is an option. Quite simply at the end of the day it's self-policing that will matter – everyone is responsible and it is likely that HSE will ask the industry to beef up its self-policing activities and that might result in increased membership fees to cover more auditing, warned NPTA.

Q How reliable is the level of auditing in Farm Assurance Schemes? The questioner pointed out that he had first-hand experience of Farm Assurance auditing and that many farmers were, perhaps unsurprisingly, not averse to hiding bad practice from the auditors?

A First of all it's important to remember that allowing farmers to use membership of certain farm assurance schemes as evidence of certification is only an interim measure. Also the Farm Assurance schemes that are being accepted as evidence of certification are only those that the CRRU stewardship Best Practice work group has approved.

Q Will there be a reduction in rodenticide sales and will this be taken as a measure of success by HSE?

A There may well be a fall in sales. However EU anti-competitive laws mean that when all the member companies in CRRU meet they must be very careful about what is discussed. That said,all  companies have agreed to provide macro sales figures to HSE. HSE has indicated that it will be happy if it sees a reduction in rodenticide sales.