Figures released by the public services union, the GMB, on Monday 1 February reveal that a total of 25,165 job losses are in the pipeline. 52 councils in England, Wales and Scotland are affected. Remaining local authority pest control units are clearly at risk.
The GMB suggests such job losses could result in bin collections every three weeks and no cleaning of gullies and the like. The union also predicts further savage cuts to services for the elderly and children and the decimation of parks and other leisure services.
The figures for each of the 52 councils are listed alphabetically in the table below. The biggest job losses are in Scotland with Glasgow expecting 3000 job losses, Edinburgh 2,000, North Lanarkshire 1,000 and Fife 900. Cumbria, Birmingham and Kirklees top the table in England.
Pest control is clearly vulnerable. If you work in a local authority pest control unit please email the editor to let us know how your unit is being affected by these cuts.
Talk of further cuts in the number of household bin collections has already led to warnings from the British Pest Control Association (BPCA). Simon Forrester, chief executive of the BPCA, said: "Any move to reduce the frequency of collections is good news for pests and a recipe for disaster for householders. Infestations can build up very quickly so bins that are left full on streets and around homes for long periods pose a significant threat to public health. Councils have tough decisions to make when faced with the need to cut costs but reducing the number of collections simply to save money would be a false economy."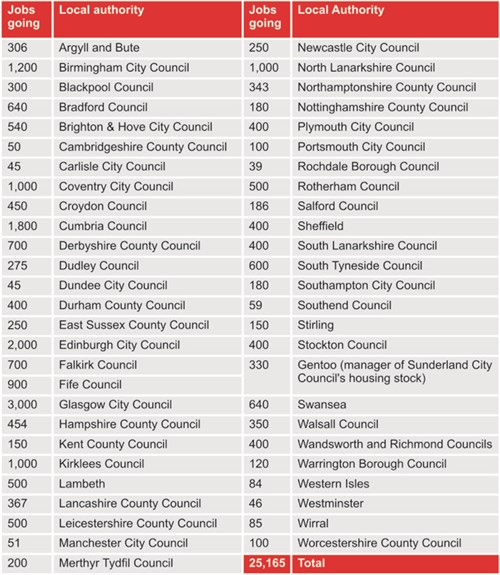 The GMB round-up also lists the level of financial cuts in the pipeline at a further 35 councils. The figures for these 35 councils are also listed below.