With the majority of votes cast by readers online this year, Racumin Foam from Bayer claimed the winner's spot in the 2015 Pest Best Product award. The results were announced during PestTech and the presentations made.
Now into its sixth year, Racumin Foam launched in October 2014 by Bayer CropScience took the first prize of Best Product award 2015 as voted for by readers of Pest.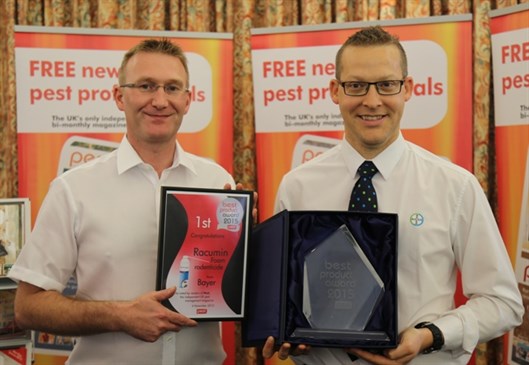 With the winner's certificate and trophy – Richard Mosely (left) and Alan Morris
Readers obviously relish Racumin Foam's unique foam application which works by using the rodent's natural grooming habits. The foam can be placed in areas where rodents are known to pass, such as access holes, cavity walls and pipeworks. It is transferred to the pest's coat as it brushes past and is ingested straight into its blood stream during routine grooming.
"We're over the moon to receive the Racumin Foam award for Best Product 2015 from Pest magazine, especially because the votes come from pest controllers who use the product on a daily basis," enthused a delighted Alan Morris, Bayer's head of sales.
"At the PestTech event we received fantastic feedback from professionals using Racumin Foam, as a part of an integrated approach. The product is fast becoming a vital part of the pest controller's armoury.
"It's testament to the hard work the Bayer Pest Solutions team put into working with professionals, and to the research and development that the company invest in, to ensure that there are new, innovative products coming to the market, particularly when we're losing vital actives," he concluded.
UK NARA Bloc distributors celebrate: Left to right: Dean Levy of 1env Solutions, Claire Larcombe of Pelsis/SX Environmental with Paul Hoyes of Killgerm

In runner's-up spot was NARA Bloc non-toxic rodent attractant developed by Futura from Germany. In the UK it is distributed by Killgerm, 1env Solutions and SX Environmental who were on hand to jointly collect the award certificate.

Unfortunately Daniel Schroeer, Futura's international sales manager, was unable to attend PestTech but he sent a message saying: "A big thank you to all the readers of Pest magazine that voted for NARA Bloc. The award belongs to every professional pest controller who believed in NARA products from the very start and who now use our products routinely.

"Our thanks also goes to Killgerm, Pelsis/SX Environmental and 1env Solutions for acting on our behalf," he added.

In what was a closely contested battle for third place, Woodstream crept into this spot by a margin of just one reader's vote.

Their Victor Kill@lert remote notification system launched early this year is obviously popular with readers and indicates the way forward for rodent monitoring and management.

Pest editor, Frances McKim commented on the winners this year saying: "All three of these products are unique and forward thinking in their approach. At Pest we are delighted that this time three companies who have never before been in the top spots have launched products which were so clearly appreciated by our readers."

Dawn Heptinstall-Bolton shows-off the third place certificate awarded to Victor Kill@lert

The Pest Best Product Award 2015 was open to any product launched between 1 January 2014 and 31 August 2015. Products can be nominated by Pest readers, manufacturers and distributors but it is Pest readers who vote for the product they feel has been the most innovative – the product which has made the greatest improvement to their working life and/or working practices.

Review the other 2015 nominated products, or lookover the 2014 winners.