At an extra-ordinary general assembly, which took place in Brussels on 5 February 2013, the Confederation of European Pest management Associations (CEPA) voted unanimously to approve revised statutes.
This action clears the path towards transforming the Confederation into a fully-fledged not-for-profit organisation under Belgian law (ASBL). This is required in anticipation of the launch of a European Standard for Pest Management Services.
Signing the incorporation papers were representatives from CEPA's five biggest national associations (France, Germany, Italy, Spain and the UK) as well as Belgium and the Netherlands, CEPA's original founders.
This represents a major step in the development process of the Confederation, signalling to all stakeholders that CEPA is ready to tackle the challenges and opportunities that lie ahead when the European Standard for Pest Management Services, currently under development in collaboration with CEN, the European Committee for Standardisation, will be launched next year.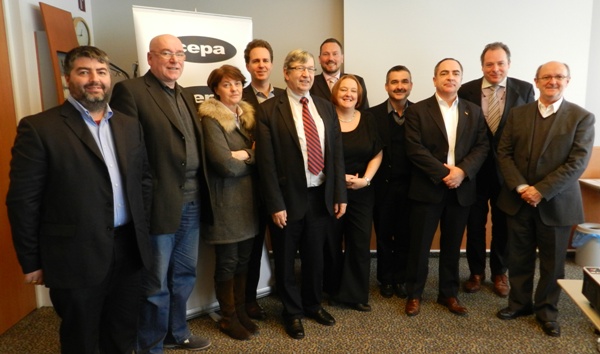 CEPA directors at the incorporation ceremony
Left to right: Francesco Saccone, Rainer Gsell, Brigitte Guillot, Frederic Verwilghen, Bertrand Montmoreau (chairman of the board of directors), Simon Forrester, Martina Flynn, Daniel Lucien, Serge Simon,
Alain van Lidth de Jeude and Roland Higgins