Jon Whitehead, a director of South Croydon-based Cleankill Environmental Services was in the limelight when he appeared on national ITV television in the Alan Titchmarsh show.
Jon Whitehead of Cleankill, was asked to appear in the Alan Titchmarsh Show on 11 September 2013 as an expert on wasps. Alongside Jon on the show was Matt Shardlow from Buglife.
Jon talked about why wasps are behaving erratically at this time of year. He explained that they are jobless and often get drunk on fermented fruit. The pest controller also brought a large wasps' nest to the show so viewers could see what a nest is like close-up.
Jon surprised Alan, the audience and other viewers with a story about how he once passed-out after stepping on a wasps nest and being stung multiple times – highlighting the danger wasps can pose. Jon made a firm recommendation to the great British public of not trying to tackle a wasps" nest themselves – call in the experts.
Alan Titchmarsh related the story of a man who set fire to his, and neighbour's, house trying to eliminate a nest.
Jon said: "I was delighted to get the opportunity to go on the show. I was a little nervous as the show was being broadcast live and tried not to think about the millions of people who were watching."
To view the interview on TV click here. The interview starts three minutes into the programme and last for five. It can be seen until 9 October.
Jon has also written an amusing blog about his experiences of being a super star – click here to read.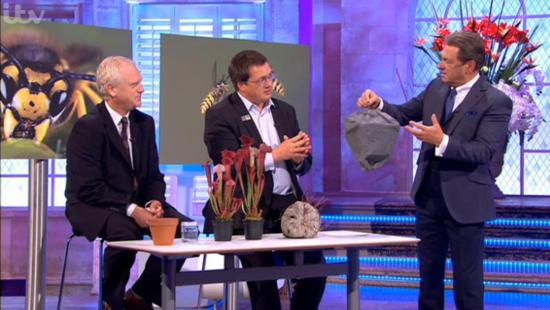 Jon Whitehead of Cleankill (left) with Matt Shardlow from Buglife with Alan Titchmarsh