There was smoke coming out of both ears when MD of south London pest control company, Cleankill, discovered one of his staff had been handed a £200 fine.
This was an on-the-spot fine given for not displaying a No Smoking sticker within the van. The fact that the driver, Freddie Beasley from Cleankill, had just been to collect the brand new van from the sign-writers failed to clear the air. The van had been picked-up in a joint police and council operation to clamp-down on 'dodgy' vehicles.
The law states that any "company vehicle" must have a no smoking sign – meaning that if he had been in the van with no logo he wouldn"t have been fined as it would have been considered a 'personal van'.
The irony is, had the driver actually been caught smoking behind the wheel, the fine would only have been £50.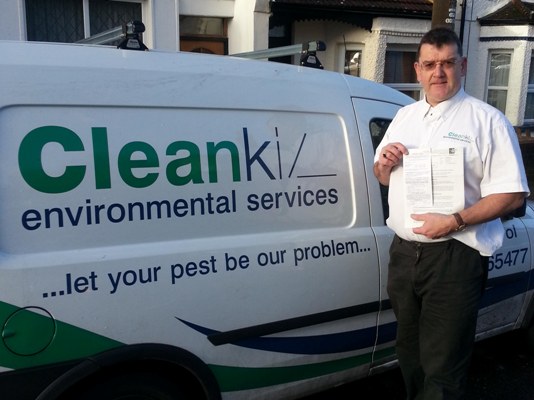 Cleankill owner, Paul Bates with the £200 fine handed to one of his
technicians alongside the newly pained van