There was a non-stop flow of customers onto the combined Bleu Line Group and Spray Team stand at Parasitec.
Bleu Line pyrethrum products – on display at Parasitec – now bound for the UK
On display was the range of Bleu Line – B L Group natural pyrethrin products along with Aquatain AMF, the winner of a special international Pest Best Product Award.
A range of insecticides with low environmental impact
Pyrethrins are a type of natural plant insecticide. They are extracted by grinding the flower heads of Chrysanthemum cinerariifolium and of C. Coccineum which are grown in various parts of the world, in particular Kenya, Japan, Croatia, Tanzania, Ecuador and Tasmania. The ground powder has a high insecticidal activity.

The term 'pyrethrum extract' consists of a blend of six components (esters) resulting from the grinding process, namely: Pyrethrin I, Pyrethrin II, Cinerin I, Cinerin II, Jasmolin I and Jasmolin II. Each of these has different chemical and physical characteristics, although they are all similar. From a chemical point of view, all pyrethrins are derived from the reaction of an acid part with an alcohol one.

The contact insecticidal action is exerted by means of a neurotoxic mechanism, with fast killing action yet with limited persistence. Pyrethrins are quickly degraded by light and high temperatures. Pyrethrins are also repellent to insects and have a flushing mode of action. They are usually of low toxicity to mammals.

Tanacetum cinerariifolium. The source of pyrethrin

Pyrethrum is recognised as a natural active ingredient at European level and is on the ECHA list of active ingredients which will be endorsed by the Biocidal Products Directive. They will be one of the few active substances allowed for use as both indoor and outdoor treatments.

Thanks to an important agreement with the Australian producer of more than 60% of the world's pyrethrum, Botanical Resources Australia, Bleu Line is able to guarantee high quality, high performance formulations specifically created for the professional pest control industry.

Available from Bleu Line now and in the future
The currently registered Bleu Line products based on pyrethrum are Piretrox (concentrated liquid) and Piretox RTU (ready to use liquid). Available in the coming months are Piretrox Dust (micro granular), Piretox ME (micro-encapsulated) and Piretrox Spray (aerosol).

Coming to the UK
In the UK, following HSE registration, the Bleu Line insecticides shown below will be on sale in December 2016.
  
  
  
  
Permex 22E
A concentrated water
micro-emulsion containing permethrin 12.36%,
tetramethrin 1.64%
and PBO 6.4%
Tetrapiu
A ready-to-use
spray containing
permethrin 0.15%, tetramethrin 0.06% and PBO 0.3%
Piretrox
A concentrated emulsion containing
pyrethrin (100% pure active ingredient) 1.25%
Piretrox RTU 
Ready-to-use containing pyrethrin (100%
pure active ingredient)
with 0.3%  PBO 3%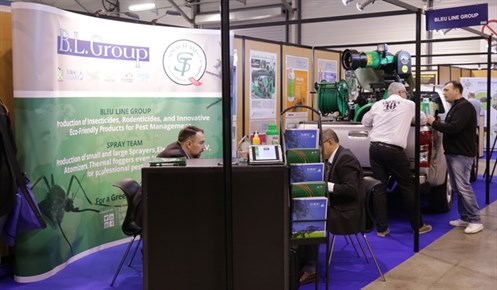 A quieter moment on the combined Bleu Line Group and Spray Team stand at Parasitec