During the Parasitec event, Pest editors Frances McKim and Helen Riby were pleased to make a special award to the Italy-based company BL Group. The special International Best Product Award 2016 went to Aquatain AMF liquid mosquito film.
Stefano Scarponi, export sales director for the B L Group, was truly surprised by the special award and absolutely delighted to hear that Aquatain AMF had gained so much support from professional pest controllers around the world. He was even more delighted when we explained that this was the first time ever that we had felt the need to make an international award.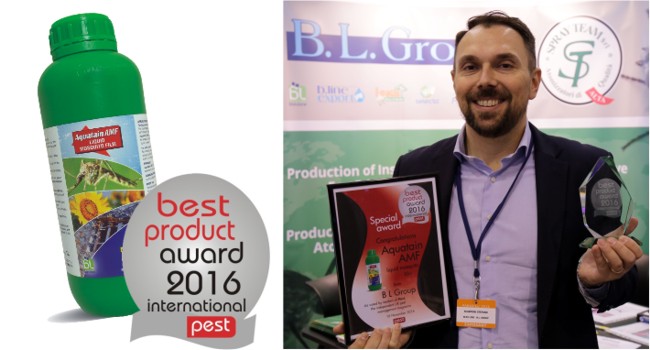 He said: "It is a great honour to receive this recognition in the name of the Bleu Line Group and all the staff. We would never have been able to do it without the support of all our customers who voted for our product."

The trophy and certificate took pride of place on the B L Group display throughout the event.

Interestingly, when the award was made there was a visitor from Lebanon on the stand. He wasn't as surprised as Stefano as he proudly told us that he was one of those who had voted for the product.

Votes for Aquatain AMF came from Eastern Europe, in particular Poland, Romania and Bulgaria, the Middle East including Abu Dhabi and the United Arab Emirates as well as Lebanon and from Western Europe, in particular the company's home market, Italy.

The annual vote by Pest readers to recognise the best new product introduced into the UK market has been made for the past seven years, but there has never been an international category until now.

Associate editor Helen Riby explains what changed this year: "The Best Product Award is aimed at our core UK market but, of course, with the shortlisted products receiving widespread coverage on the worldwide web we have, from time to time, attracted a few international votes. This year, however, we had far more international votes than ever before and the overwhelming majority of them were for the B L Group product, Aquatain AMF. We felt it was only right to recognise the impact this particular product has had.

"It's not something we expect to do every year but should a similar situation arrive we would I am sure want to recognise that product. In essence, however, the Pest Best Product Award will remain a UK-oriented event," she added.