Hockley International is celebrating the highly positive response the company has had to their new broad-spectrum professional insecticide, Mostyn PTP 15 ULV. They invite you to come and see them at PestEx to discuss this product, just one of which makes up their professional product range.
Success with Mostyn PTP 15ULV
Formulated as an ultra-low-volume concentrate, Mostyn PTP 15 ULV gives rapid knockdown action. It consists of three active ingredients, two of which are pyrethroids for knockdown and a synergist to amplify their effect.
Mostyn PTP 15 ULV
from Hockley International
These two pyrethroids, tetramethrin (19 g/l) and 1R-trans-phenothrin (39.4 g/l), act upon the nervous system of insects leading to knockdown and death. Whereas, the synergist piperonyl butoxide (PBO) inhibits the insect's defences against the pyrethroids.
The product is available in both ultra-low-volume and coex bottles, to enhance its usefulness to professional pest controllers. ULV application can be key for situations where a high work rate is required, such as when treating large areas or where a rapid response is demanded. It is also suitable for application by thermal fogging and surface spraying, and can be bought in Exodus-compatible Microgen bottles.
Mostyn PTP 15 ULV adds a professional wide-spectrum option with rapid action on pests, and with the versatility that it can be used in a wide variety of environments against a wide variety of pests. With an ever-expanding selection of quality Environmental Health products, Hockley International's range offers complete coverage of all the key areas in insect pest control.
Mostyn PTP 15 ULV can be used against a wide variety of pests even in heavily trafficked areas, such as kitchens, office buildings, hotels, food retailers and hospitals. It is effective against all the most common insect pests, such as ants, bed bugs, beetles, cockroaches, flies, fleas, mites, mosquitoes, wasps and more.
Ready for summer 2019
In the summer of 2018, temperatures matched the hottest on record and long-term forecasts predict similar temperatures in 2019. These temperatures led to a huge demand for insect control products across the UK, with pest insects thriving, and insect bites doubling. Hockley saw a huge boost in business during this time and, in response, have worked to add new products to their range to better serve their customers.
Visit the team at PestEx
Visit the Hockley International team for more information on Mostyn and their other products on stand 40 at PestEx. Or consult the website.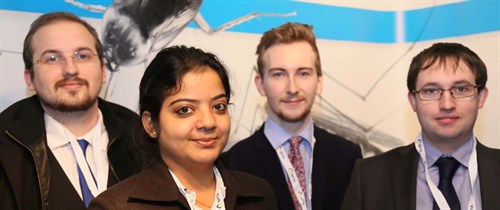 Visit the Hockley team at PestEx.
Left to right: Pierre Bazin and Lakshmi Prasad, lead regulatory specialists,
marketing executive Lewis Litchfield, with regulatory officer James Thacker