Well-known for the high standard of their product and problem pest information, Bayer has just revamped and updated two of its most popular publications.
Copies of both of these publications can be obtained free of charge by emailing Bayer – click here. Please supply your company name and full postal address when requesting a copy, and specify which publication you would like.
The first is a new edition of its comprehensive Product & Pest Guide .
This 106-page, A4 spiral bound glossy booklet comes in two parts. Part 1 includes a wealth of information on Bayer products – for example, where the products can be used, at what dilution and application rates and the active ingredients they contain. Naturally, it also includes the most recently launched products from Bayer including Maxforce Quantum and Maxforce Prime.
Part 2 is a first class 68-page insect pest guide covering identification, location, importance as a pest etc all well illustrated by pest drawings in full colour.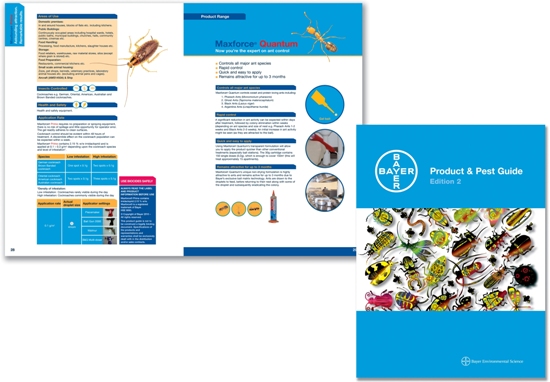 The company has also produced a colourful pest identification wallchart. This is as useful as it is attractive and should find a home in any pest controller's office, workshop or store. The beautifully illustrated chart includes all the major insect pests.