The full seminar and technical programme for the two days of PestEx 2015 has been announced by BPCA. All credit should go to BPCA for putting together such an array of topics – the only problem will be deciding which to attend.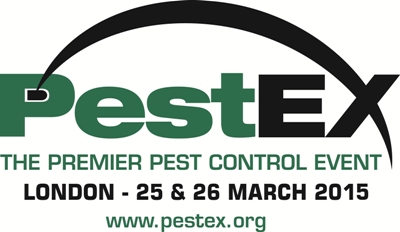 With PestEx 2015, organised by the British Pest Control Association (BPCA) still two months away, it's ideal to have available the full programme of subjects to be presented in the seminar theatre as well as the more technical topics to be discussed in the technical theatre.
Click here to view the overall programme for Wednesday 25 March and Thursday 26 March.
Seminar topics
The seminar topics range from what could be considered predictable – the SGAR stewardship regime and anticoagulant resistance in Europe – to panel discussions on pest control from the client's perspective lead by representatives from Tesco and Marks & Spencer.
Technical sessions
A whole host of topics feature in the technical theatre programme – venomous spiders, asbestos safety, fumigation, label reading, fly control, invasive pests and even pest control and hoarders – is this aimed at the state of our industry records in the Pest office?
Exhibition expanding… again
Before Christmas it was announced that the exhibition area had already needed to be extended to accommodate all those wanting to exhibit. Since then, demand for even more stands has meant that BPCA has now added an additional 33 square metres of exhibition space, making seven further new stands. This means that this year's show will be 279 square metres of space larger than the one in 2013.
How visitors are to be expected to do justice to all of this in just one day remains to be seen. This raises one problem though – if you want to attend for both days and have yet to book any hotel accommodation, be prepared to either have 'deep pockets' or be prepared to travel to Excel – all the hotels in the vicinity are already heavily, if not fully, booked.
To review the exhibitors booked to date click here.
Visitors advised to pre-register
If you haven't done so already, it is recommended you book your free of charge visitors' place now – it will save you time waiting in a queue on the day.
Click here to pre-register.