Congratulations to 1env Solutions for taking first place with their Rotech Ranger dual trap mouse station in the 2017 Pest Best Product Award as voted for by Pest magazine readers.
This year rodent control products in the widest sense were very well represented within the products nominated, accounting for a staggering 14 out of the 17 nominated. But Rotech Ranger stole the show and won by a clear margin.
In runner-up spot was Ratwall distributed by Edialux and developed by Metex, a relatively new name in the pest control sector, yet a company that specialises in product innovation in the construction industry.
Readers voted into third spot, the insecticide Cimetrol Super from PelGar International.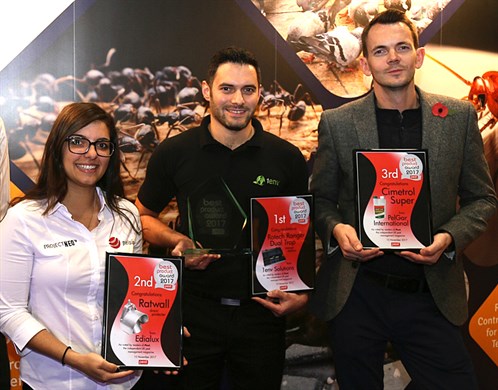 The class of 2017. Winners of the Pest Best Product Award.
First (centre) James Mendoza of 1Env Solutions for Rotech Ranger Dual Trap, second (left) Amy Frith of Edialix with Ratwall and (right) Nic Blaszkowicz of PelGar International with Cimetrol Super
Rotech Ranger Dual Trap Mouse
Station from 1env Solutions

Ratwall from Edialux


Cimetrol Super from PelGar International
As Helen Riby associate editor at Pest explained: "This year we had a record number of votes cast by readers. Far and away the majority of these came electronically via the voting form on the Pest website. Each year the number of votes cast by readers increases and we are delighted to see how the manufacturers and distributors have got behind their products."
Interestingly, of the 17 nominated products, the top six accounted for over two-thirds of all the votes cast. The other three products gaining good support, in descending order, were Romax Venom Lipogel from Barrettine Environmental Health, Rotech Bullett rat bait station and Probird Solar-Guard both from 1Env.
"We would like to thank all the readers and companies who supported this year's Pest Best Product Award. Look out for details of how to nominate products for the 2018 Award in the New Year," concluded Helen.