On the ICB Pharma stand at Parasitec in Budapest 9-10 May 2019, Provecta, an ingenious product that controls flying and crawling insects through physical action, attracted plenty of interest. It can be used as a stand-alone product simply diluted with water or, in the jargon, as an 'insecticide efficacy enhancer'.
Exciting resistance-breaking technology for better insect control
So what is Provecta? ICB Pharma's Krzysztof Pekala explains: "Provecta is a unique product that has a physical mode of action. This means it is equally effective against resistant and non-resistant insect populations and also that insects will never be able to develop resistance to it.
"Provecta is based on ICB Pharma's amazing All-in-Web technology. When applied to a surface the product forms an air-permeable, three dimensional molecular structure, a bit like a spider's web which traps and immobilises the pest. This prevents the pest from feeding, resulting in a significant reduction in the pest population. As a purely physical control it does not need to go through the long and expensive EU authorisation process."

Krzysztof Pekala shows off the innovative Provecta product

Provecta provoked plenty of discussions at Parasitec in Budapest such
as this one with ICB Pharma's David Liszka, left
Krzysztof continues: "Used alone, Provecta is ideal for sensitive areas such as for bed bug control treatment in places where toxic products cannot be used – hospitals, health resorts, care homes and hospices. However, the product is even more effective when mixed with insecticides as it also enhances the bioavailability of the active substance leading to greater absorption."
Science at its heart
ICB Pharma may be a new name for many readers, but this family company has been around for many years. Based in Poland, science is the foundation of the business with a well equipped and GLP (Good Laboratory Practice) compliant research and development laboratory working to introduce cutting-edge products in four areas: Health Care, Crop Solutions, Animal Health and Pest Innovations.
That science is at the heart of the company is no surprise when you know something of its history. Its origins go back to the distinguished chemist Professor Wojciech, Swietoslawski who was twice nominated for a Nobel Prize. Professor Swietoslawski's grandson Janusz carried on the family's love of science, and now his sons, Tomasz and Pawel Swietoslawski, currently manage the company. Across the generations the  family's unconventional and creative approach to the practical application of chemical knowledge has continued to produce groundbreaking products like Provecta.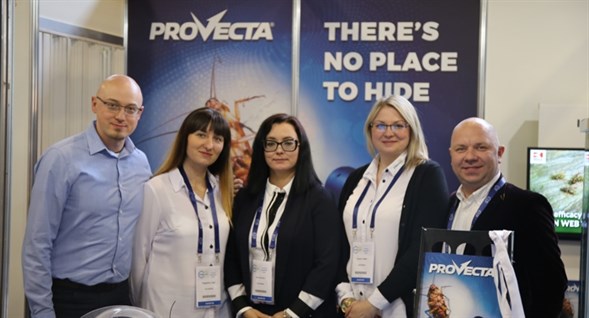 The ICB Pharma team at Parasitec in Budapest. From left: Krzysztof Pekala, Magdalena Spyt,
Ana Francisco, Ewelina Radko and Pawel Swietoslawski
Fruit fly trap
The pesticide-free fruit fly monitoring trap also proved popular with many visitors taking home a free sample to test its effectiveness for themselves. The trap contains a food-grade attractant. By monitoring the fly count in the trap pest professionals can readily locate the source of infestations.
ICB Pharma was a pioneer in the development of traps specifically for fruit flies but the company's expertise in trap development is much wider. Its wasp, hornet and fly trap contains a specially developed attractant that lures in target insects but does not attract bees and other pollinators. All traps meet HACCP guidelines.
The attractive fruit fly traps resemble apples
Visitors were encouraged to take a free sample and try the ICB Pharma
fruit fly traps out for themselves