The search is on to find the product that Pest readers will crown the best new product when they vote this autumn. Yes, nominations for the Pest Best product Award 2019 are now being accepted. So what's impressed you so far?
It's time to start thinking about which products you want to nominate for the Pest Best Product Award 2019. Products launched between 1 January 2018 and 31 August 2019 are eligible and you can nominate as many products as you want so there's no need to wait. Get your nominations in now and, if something better comes along later in the year, you can simply nominate that as well.
There's already plenty of choice. Take a look at the new product pages in the six issues of Pest magazine published in 2018.
What about the clever solar powered fly trap from Kness, or the innovative Natarro Scout bed bug lure; both seen at PPC Live last March?
Or maybe you've fallen in love with the Neo rodent bait station from Pelsis, which finally came onto the market in September.
Or, more recently in Pest 59: October & November 2018, there's that new insect lure from Russell IPM, Silvercheck, or the 'freezer in your pocket', Green Hero, developed by Futura and sold in the UK by Edialux and 1env.
We feel sure there will be plenty more introduced over the coming months.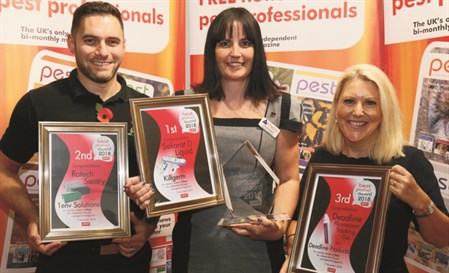 The 2018 Pest Best Product Award winners
Remember we are looking for the product that you feel has made the most improvement to your working life and/or working practices as a pest professional.
You can nominate any product introduced after 1 January 2018 except for the products which achieved a first, second or third place in last year's award. So that means you cannot nominate Sakarat D Liquid from Killgerm, Rotech Sentry metal bait stations from 1env Solutions, nor Deadline Fluorescent Tracking Gel from Deadline Products – the winners from 2018.
Throughout, Pest readers are in the driving seat. You nominate the products then we produce a shortlist and invite you to vote for the product you feel deserves to win. Winners will be announced at PestTech in November and will be featured in the December edition of Pest magazine.
You can nominate products via our online PDF form, or by using the printed nomination form in Pest 61: February & March 2019. Alternatively you can email the editor. Please type Best Product Award in the subject line and be sure to include:
Your name;
Your company/organisation's name;
The products you would like to nominate.
Nominations will close at midnight on 31 August 2019. The timetable is:
22 January 2019 – Pest Best Product Award launched
22 January to 31 August 2019 – Pest readers nominate their selected products
16 September 2019 – Pest draws-up the product shortlist from the nominations sent in
16 September to 31 October 2019 – Pest readers vote to establish the winner
1 November 2019 – all votes counted
6 November 2019 – winners announced and award presented during PestTech.
Qualifying period
Any product launched between 1 January 2018 and 31 August 2019 can be nominated.
Rules of engagement
We've tried to keep it as simple as possible but there are some rules to follow.
Only commercial pest control products can be nominated. Services, promotional schemes, special offers and the like are excluded;
Products nominated must have been launched after 1 January 2018 and before midnight on 31 August 2019;
Products which have achieved 1st, 2nd or 3rd place in the previous year cannot be re-nominated.
Products must have been fully commercially available at some during the time period shown in 2 above. Products supplied for trials purposes cannot be entered;
Only products sold in the UK are eligible;
Entries must be made via an official printed nomination form as supplied by Pest or by using the online form accessible via this website or by emailing the editor as detailed above;
Readers can nominate as many products as they want;
Manufacturers and distributors can nominate their own products, but they cannot vote for them;
Readers may vote for their top two products, but may only submit one voting form. Second choices will be taken into account in the event of a tie;
Votes submitted after midnight on 31 October 2019 will not be counted.
The legal stuff
In the event of a tie then reader's second choices will be taken into account. If there is still a tie, all the products with the same score will receive the award;
The count will be conducted by Pest publications and the decision made by Pest will be final. No correspondence will be entered into;
The results will be announced at PestTech and on the Pest website and in Pest magazine;
Pest takes no responsibility for late or lost entries. Proof of sending is not proof of receipt;
Pest will only use your personal details for the purposes of administering this award and will not publish them nor provide them to anyone else without your permission.