Pass an online Pest Test and, from now on your BASIS PROMPT Continuing Professional Development (CPD) points will be added automatically to your training record. This welcome development follows investment by Pest to dispense with the labour intensive manual inputting of test results.
Associate editor, Helen Riby comments: "Don"t ask us how, but some clever digital wizardry by the company that maintain the Pest website and the BASIS PROMPT data manager, Andrew Boulding, means that from now on the Pest system is speaking directly to the PROMPT system and CPD points will appear on records within 24 hours of any test being correctly completed.
"We are delighted that this automation has been added and believe the investment will be welcomed by our readers who need PROMPT points," says Helen. "To be frank we have been overwhelmed by the number of people doing the tests – in 2018 there were 1,878 entries and every single one had to be inputted manually into the PROMPT system."
Tongue in cheek she added: "It will mean that we can relax over the Christmas period as, up until now, because the CPD year ends on 31 December we've always had to spend time inputting tests between Christmas and New Year!"
Not quite perfect!
The benefits of automation are clear but, the upgrade isn't perfect. As there are now two computers talking to each other the system has to rely on the account number to identify the person who has earned the points.
"In the past when there was human involvement we could check that the name associated with the account matched the name on the Pest Test entry. But, no longer, if you accidently input someone else's account number – that's the eight digit number beginning with 200 – then that someone else will get your points. The moral of this story is always double check you've entered the correct account number before you hit that final submit button. The new system wil also send you an email confirming the account number you've entered so, if you spot a mistake, then get in touch with us as soon as you can."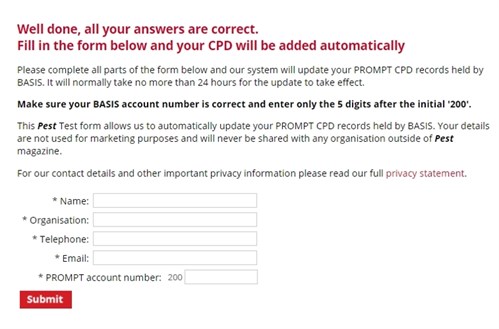 To be sure of getting your CPD, always double check you've entered the correct account number before submitting
Paper will still be an option
For those of you who like paper and pen then worry not, the printed version of the test will continue to appear in Pest magazine and the old manual system whereby we mark your answers and input your account number to get the points will continue.
"We might even get these done in a more timely fashion – but no promises!!" concluded Helen.
Want to try out the new system, then follow this link to Take a Pest Test.