Pest associate editor, Helen Riby, is urging pest professionals who need PROMPT Continuing Professional Development (CPD) points to make the most of the 2019 Pest Tests before they expire on 15 January 2020.
The Pest Tests, which comprise six multi-choice questions based on articles in Pest magazine, have proved more popular than ever in 2019. They are avaiable in both traditional paper and online format.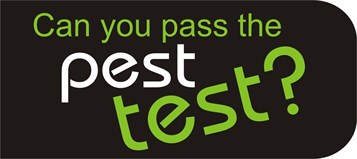 "With the online versions being marked automatically and points awarded almost immediately, anyone who needs to top up their tally before the end of the BASIS PROMPT CPD year should visit the website where they can find all the relevant articles and quickly earn those extra points," says Associate editor, Helen Riby.
However don"t wait too long.
She continues: "All the 2019 tests, that's Pest Tests 60 to 65 inclusive, will come down from the website at midnight on Wednesday January 15. For Pest Test 66, which is based on articles in the current December 2019 & January 2020 magazine, readers have a choice. They can either do Pest Test 66 online before midnight on 15 January 2019 when the points will go towards the 2019 requirement, or after then, when the points will go towards the 2020 CPD year."
Paper tests all up-to-date
For those of you still using pen and paper and posting tests to the editor, the good news is that, as of Tuesday 17 December they had all been marked and points awarded. Of course more may have flooded in with the Christmas cards but rest assured, all 60 to 65 tests received before 15 January will be marked and results added to readers' 2019 PROMPT records and we wil do this as quickly as possible.
UPDATE
All Tests received, and correctly answered, since 17 December – as of Saturday 11 January – are now all marked & entered up on individual's records.
For Pest Test 66 readers will need to mark on their test paper which year they would like the points to go towards but, be aware that, all those received after 15 January 2020 will be deemed to be for the 2020 CPD year.