After many months of what must have felt like blood, sweat and tears, Terminix UK became official – as on 4 December the new name was formally registered with Companies House. But, not only is the company official, it's now up and running under its own steam having parted from MPCL which was trading as Mitie Pest Control.
It's all go now, following the announcement on 22 August 2019 by the Competition and Markets Authority that it had accepted the undertakings proposed by Rentokil Initial for the divestmennt of the national accounts part of Mitie Pest Control Ltd to ServiceMaster.
Following the above announcement, a Transitional Service Agreement was agreed with Mitie, so that all services could continue to be provided by Mitie whilst Terminix got its own systems in place. In the meantime, the new business was launched to staff at a meeting held in Cheltenham on 8 October.
The recent feature article in Pest: Issue 66 revealed the background to this UK acqusition and the plans ServiceMaster, the company behind Terminix, has for international expansion. Read it here.
So how's it all gone?
"We have been incredibly busy and the team has been performing miracles on all fronts. We have been very focussed on getting the business on a solid footing, moving away from the Mitie framework and onto our own Terminix UK platform and branding," explained David Wareing, managing director of Terminix UK.
"Over the last five to six weeks, we have scoped, planned and implemented a complete transformation of how we run our business and how we look. Our transition away from Mitie Pest Control to Terminix UK was successful over the weekend of 7-8 December," David declared.
| | | |
| --- | --- | --- |
| David Wareing, Terminix UK managing director | | Soon to be a familiar sight up and down the land |
So what's been involved?
For anyone who has been through a corporate rebranding exercise the scale is vast. It's not only what all the manifestations of the company look like, but everything has to be communicated to staff, customers and suppliers. And, in our technological age, both hardware and software has to be changed so as to allow the company to effectively function and communicate. Quite a task.
Branding and regulatory items
The company, Terminix UK, was registered from the previous MPCL trading as Mitie Pest Control on 4 December and all accreditations & insurances were transferred to Terminix UK. All customers and suppliers were contacted about these changes.
Starting to be rolled out is the re-liverying of the van fleet consisting of 220+ vehicles. This is scheduled to be completed in the first couple of weeks of January. Meanwhile, new uniforms for the technician teams have been designed, measured and ordered for implementation early in 2020.
Technology and communications items
As of the weekend of 7-8 December a whole raft of digital items have gone operational, including the creation of the terminixuk.com domain. The migration away from the Mitie systems is complete, with the establishment of the core business infrastructure of the new Terminix UK managed Cloud environment, which includes customer and operational systems, customer portals, hand held technology and reporting. In addition, there is full integration of communications platforms with ServiceMaster (global).
For Terminix UK staff, a total of over 300 mobile phones and 120+ laptops & peripherals have been sourced, configured and supplied along with the creation of 320+ Terminix UK user email accounts.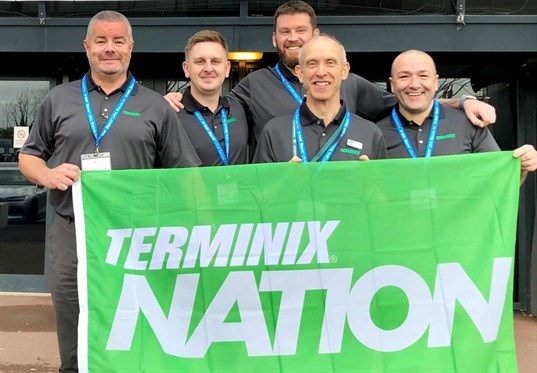 A happy group of rebranded UK staff