This week (9 to 15 September) has been Asian Hornet Week and the 'Twittersphere' has been full of bite-sized bits of information on the threat this invasive insect poses; BPCA being one of the many contributors. Other social media platforms have also carried dire warnings.
Not surprisingly as it is honey bees (as well as many other beneficial insects) that are at risk from the Asian hornet (Vespa velutina), the British Beekeeping Association got behind the week. This, together with the noise created on social media, has also been reflected in the conventional press and not just at a local level. So, many of the major newspapers have also carried news stories.
Sadly the accuracy of some of the reporting leaves a lot to be desired. Yes there are still newspapers out there describing the Asian hornet as 'bigger than our native hornet' – mixing it up with the Giant Asian hornet which is definitely not threatening our shores.
As an awareness raising exercise no doubt the week will be declared a success. BUT a Google search reveals that the same week was also Design week, Know Your (Blood Pressure) Numbers week, Remember a Charity week and the National Fire Chief's Council Business Safety week. No doubt there were other topics that chose the same week so you can't help wondering how effective such campaigns really are.
Vigilance is, of course, important and particularly among pest professionals and beekeepers who need to know what they are looking for. Download the GB Non-native Species Secretariat's Asian hornet identification poster here or visit the GB NNSS website.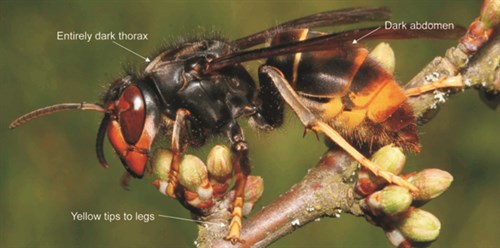 There's also a free App to allow you to report any sightings, search for Asian Hornet Watch in the Apple App store or on Google play.
However, we can't help wondering if, as an ex colleague used to describe it, we aren't pushing water uphill with a colander to help us! Global warming and the proximity of an established Asian hornet population on Jersey probably mean it is just a matter of time before controlling Asian hornets becomes part of a professional pest controller's routine activity.
For those who want the facts, so far in 2019 there have been just three confirmed sightings:
Ashford, Kent – confirmed 9 September 2019
Tamworth area, Staffordshire – confirmed 2 September 2019, nest located and destroyed
New Milton, Hampshire – confirmed 3 July 2019 – single hornet captured
Since 2016, there have been a total of 16 confirmed sightings in England and seven nests have been destroyed. Read more on the UK Goverment wbsite.