New year, new job? Killgerm is looking for a bird management specialist to provide bird control training and advice along with site visit/survey support for customers. This exciting role will also involve assisting in the development of a growth strategy for the Killgerm bird control operations, both in the UK and overseas and the assessment of new bird control product development opportunities.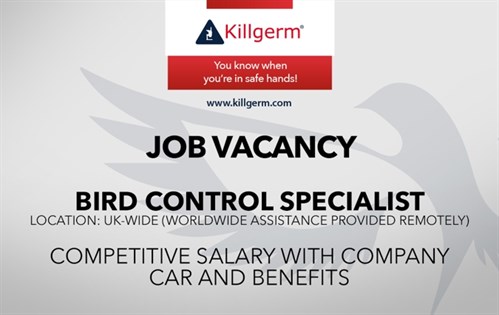 The role is home-based and covers the whole of the UK. It comes with a competitive salary, company car and generous benefits. A full driving licence is essential. The successful candidate will be a key part of the Killgerm technical team, reporting to the head of technical, Dr Matt Davies.
Matt explains: "We are looking for someone who has a wide range of industry experience in bird management who is self-motivated and has good organisational and planning skills. They also need to work well within a team and have a good eye for detail. RSPH level 2 in pest management, or equivalent, is preferred and some experience of delivering training is desirable."
Interested?
Download the full job advertisement here,
or email your CV to Claire Langfield
or post it to Clare Langfield, HR Co-ordinator, Killgerm Group Ltd, Wakefield Road, Ossett, WF5 9AJ
Closing date for applications is 1 February 2019.