The colour supplement of the most recent edition (8 January 2012) of the Sunday Times included a six page article all about the urban fox. Pest control professionals from Kent-based B&D Pest Control feature.
All originally looks promising. The article headline is "Vermin or victim." Then the introductory paragraph for the article states: "They steal our rubbish, eat our pets and have even been known to attack children. In return, we hire pest controllers to trap them and shoot them. Is this a just war?"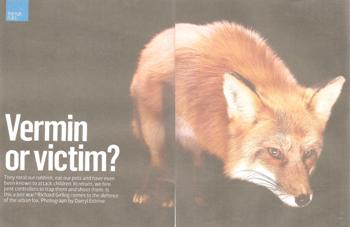 The Sunday Times – 8 January 2012
What you then expect to read is an article reasonably fairly presenting both sides of the urban fox dilemma – depending where you stand – either garden pet or pest. This isThe Sunday Times after all!

Some hope! The sum total of any information about professional pest control runs to a single paragraph accompanied by three photos of B&D Pest Control staff apparently searching for, catching and then bagging a despatched fox.

The remainder of the article provides a potted history of the rise of the urban fox along with details of their behaviour, what they eat and how they are treated on TV. Hardly a single word is committed to paper detailing the problems they cause and why control methods are necessary.

  

 In happier times. Danny Thatcher (left)and Brian Redpath at PestEx 2011
As to be expected, much of the information provided comes from Professor Stephen Harris from the Mammal Research Unit at Bristol University with statistics drawn from The Fox website, which itself is maintained by the Mammal Research Unit.
Commenting on the article a very disappointed Danny Thatcher said: "My partner in the business, Brian Redpath and I, were contacted by The Sunday Times and were assured this was to be a fair and balanced article. We organised a full day out for the reporter and photographer. We visited a client with a fox problem and he spent considerable time explaining why control was necessary and why we were there. Not a word of this is included.
"We thought things had gone well – they were keen to find out about what we did, the atmosphere was very cordial and the photographer must have taken over 300 photos," explains Danny. "Yet none of this has come across – what has been printed is entirely one-sided," concludes a very frustrated Danny.
What is positive though, as a direct result of the article, Danny has had the opportunity to put the record straight with interviews on both Radio Kent and also LBC.
To read the article in full for yourself – click here. (3MB)