Delegates are invited to request their place now at this, the fifth joint seminar, to be held by Barrettine Environmental Health in association with Pest.
Following the success of last year's event, Pest publications is once again very pleased to team-up with Barrettine Environmental Health to offer pest professionals an excellent and topical one-day seminar on Tuesday 14 October 2014.
It will, once gain, be held at the popular venue – the Hellaby Hall Hotel in Rotherham – and it will be accompanied by a small exhibition.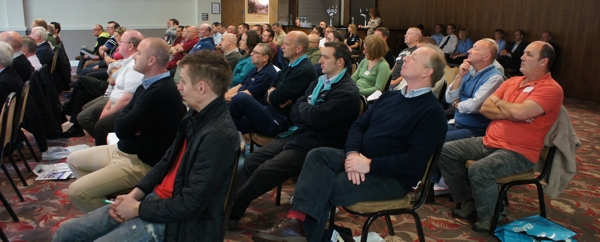 Delegates listened intently at the 2013 seminar – if you missed it last year, now's your chance to make amends 
The programme, presented by acknowledged industry speakers, covers a broad-spectrum of topics close to the hearts of all pest controllers.

Confirmed speakers to date include Paul Butt from Natural England who :will update the meeting on the current situation regarding Second Generation Anticoagulant Rodenticides (SGARs). Also from Natural England, Rodney Calvert will discuss topical aspects of bird and mammal behaviour – no doubt badgers may well be mentioned!

Alan Morris from Bayer will be revealing some new product innovations the company will have just launched.

Pest's own associate editor, Helen Riby , will also be on the agenda taking delegates through four years worth of data gleaned from National UK Pest Management survey jointly conducted by Pest with BASF Pest Control Solutions. What has significantly changed and what does this mean for practical pest controllers?

The day is supported by Suterra, Bayer, Bell, Rentokil and BASF who will all have product information and expert staff ready to answer any questions delegates may have. Representatives form the sponosring companies will also be presenting short marketplace sessions on key products.

Commencing with coffee at 08.30, the event is to be held at the Hellaby Hall Hotel in Rotherham. It is located very close to Junction 1 of the M18 – so is easy to reach. Click here for location details.

The main event, including lunch, is free of charge to all MINT members. If you are not yet a MINT member you can register, free-of-charge, with Barrettine for the MINT scheme and come along.

If you don't want to join MINT you can still apply to come along to the day but will ask you to make a contribution of £35 per delegate towards the venue costs.

BASIS CPD points will also be available.

Don't delay – register now! 


As Helen Ainsworth explains: "Barrettine is delighted to have teamed up, once again, with Pest magazine for our Northern Training Day. If the response to these days in previous years is anything to go by we will struggle to accommodate everyone who applies. So, book early to avoid disappointment."

Contact Barrettine on 0117 967 222 or email them