The British Pest Control Association said it is reviewing its member complaints procedures and is looking for some members to get involved with a new complaints working group.
Natalie Bungay, BPCA technical and compliance manager, said: "Accountability is a crucial part of BPCA membership. We accept complaints from the general public, other members and even competent authorities such as HSE.
"The way we deal with complaints means we can confidently recommend member companies and potentially even remove members who don't meet our stringent standards.
"The complaints process can also be a useful member benefit as it gives you a third-party to refer tricky customer disputes to if you can't resolve them yourself."
The BPCA Professional Standards Committee is looking for a small group of volunteers to review the whole member complaints process with the support of the BPCA staff team.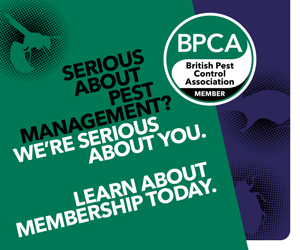 Ms Bungay said people interested in putting themselves forward will be expected to attend between two and four virtual meetings, via video call, and produce a set of recommendations for the committee, who will then have the updated process ratified by the executive board.
To register your interest, contact membership@bpca.org.uk; or to have an informal chat about joining, call Ms Bungay on 01332 225104.