The Health & Safety Executive has accepted the British Pest Control Association to represent professional pest management's interests in UK REACH and chemical regulation as an Accredited Stakeholder Organisation (ASO).
HSE acts as the agency for UK REACH. REACH stands for Registration, Evaluation, Authorisation and Restriction of Chemicals.
UK REACH applies to the majority of chemical substances, including biocides used by pest professionals.
Accredited status means BPCA can be involved in consultations, calls for evidence and participate in specific meetings and activities that other organisations can't.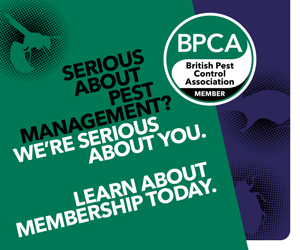 Ian Andrew, BPCA chief executive, said: "Members have raised concerns about how chemical regulation, product labelling and post-Brexit changes might affect their work.
"We hope by working closely with HSE and making member's thoughts heard at the highest levels, we can ensure regulation works in the interest of public health. In exchange for sharing our expertise, we'll gain access to an important government department whose actions can directly impact our toolkit."
Mr Andrew said an introductory meeting is planned for early autumn.