Packed with industry news, technical sessions, guest speakers and CPD opportunities, the BPCA Digital Forum 10 takes place next Tuesday, (September 28), between 9.30am and 12.30pm.
The event is sponsored by Bayer.
To take part in the event, all you need is a computer, laptop, smartphone or tablet and an internet connection.
Places are strictly limited to 500 places, so get booked now.
BPCA Digital Forum 10 agenda
9.30am-9.40am: Welcome and Intros – Natalie Bungay, BPCA
9.40am-10.05am: Drainage Investigation Techniques – Davy Brown, RatDetection
10.10am-10.50am: Preparations Not Required: Using the TRNZ4rm Approach to Manage Bed Bugs – Sarah Latyn, Bed Bug Central
10.55am-11.05am: Comfort Break
11.05am-11.35am: Sponsored slot: Harmonix Rodent Paste – a new era for rodent control – Richard Moseley, Bayer
11.40am-12.10pm: New & Emerging UK Pest Species – Clive Boase, the Pest Management Consultancy
12.10pm-12.30pm: Association news and industry updates – Ian Andrew, BPCA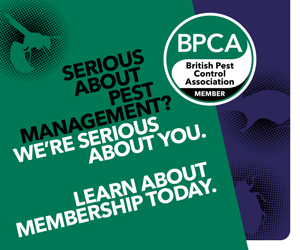 CPD points
Three BPCA Registered
Three BASIS PROMPT
Register for the event by clicking HERE.