With some theatrics, NARA Spray was revealed to a training room packed with eager pest controllers who had gathered to hear all about rodent control using non-toxic methods.
Held on 5 October at the HQ of Pelsis in Knaresborough, a group of invited pest controllers met to hear all about the non-toxic approach to rodent control. With the date just passed (1 October) when a stewardship approved proof of competence certificate is required in order to purchase rodenticide, the timing could not have been more apt.
The concept of using non-toxic baits in traps to either control, or reveal, the presence of rats and mice is not new to practical pest controllers, but German manufacturer, Futura, has added to their already considerable range and taken this one step forward with the development of an attractant spray for non-toxic trapping.
Easy to use, straight from the can

Coming in an aerosol can, NARA Spray can either be applied directly to your trap or bait station, or as a highly attractive trail leading rodents directly to a non-toxic baited trap or bait station.

The aroma, which at the moment comes in savoury meat flavour (but further flavours are in development) is extremely attractive to both rats and mice.

Applied in 'blobs' it effectively 'guides' the rodent to the trap – ideal for use where there may well be other competitive and attractive food sources in the vicinity.

Tthe aerosol cans have have been especially designed to allow spraying whilst held upside-down.

The trail of the oil-based NARA Spray is said to remain attractive for up to two months depending on the ambient environment.

Oliver Klute (left) with Daniel Schroeer of Futura
show off the new NARA Spray
A first for the UK

The UK is the first country in Europe, nay the world, to find-out about NARA Spray, with roll-out elsewhere set to follow.

It is believed this is the first such sprayable rodentice attractant to be dveloped and marketed anywhere.

But, hold your horses, stocks will not be in distributors' stores for a few weeks yet!

When you do get supplies, the spray can comes accompanied by a natty belt onto which you can attach the can for an 'easy draw' – as Colin Harrison (right), UK sales manager for Pelsis, so ably demonstrated!

  
And for the future…..

Whilst the great reveal ofthe day was for NARA Spray, delegates also heard about what was also in the Futura pipeline.

Here, those in the audience, got their hands onto another product for the future – Runbox Robust.

Built to containing two rodent traps, it is constructed of expanded polystyrene which offers rodents a warm and cosy spot in the winter, or a cool environment in summer.

This product will be added to the range in the near future.
The rest of the time was packed with details and demonstrations covering the balance of the Futura range of products, in particular how eMitter Beep can be used to full advantage within commercial environments.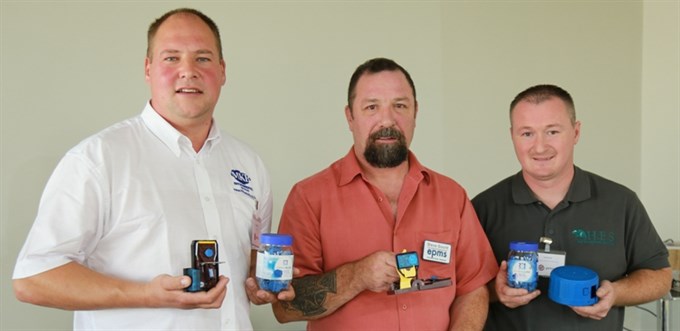 Relating their experiences. Left to right: Matt Benton, Steve Gould and Scott Hood
Steve Gould of Pickering-based Enviro Professional Management Services, outlined how the installation of trap boxes accompanied by eMitter Beeps not only saves him time or routine checking, presents a professional image to the client, but for him, most importantly, bolsters his bottom line.
This concept was further developed by both Scott Hood of HES Environmental Services and Matt Benton of MKB Pest Control from Lincolnshire who detailed some of the practical situations, including a farm, pub and caravan site, where they had used eMitter Beep products. Matt summed-up his feelings by saying: "The potential of Emitter Beep is only limited by your own imagination." Quite a recommendation!
The Pelsis team is keen to examine the new NARA Spray product 
The delegates attending are equally keen to see for themselves
But its not all work and no play –
still time for a coffee and a chat!