It was announced on 9 December that Cirencester-based Green Compliance had bought Enviroguard, based in Penshurst, Kent, lock-stock-and-barrel
This acquisition of Enviroguard from well-known industry stalwart, John Somner, makes it Green Compliance's third in the pest control sector this year – having previously bought PestFree in late November and Envirocare early in July. One wonders who next?
Water, fire and pest control & compliance services provider Green Compliance said it closed the acquisition of the entire issued share capital of Enviroguard (UK) Ltd, for a total consideration of around £1.59 million payable in cash. The transaction was funded from the proceeds of the company's recent issue of equity.
Commenting on the acquisition, Green Compliance"s chief executive officer John Prowse said: "The acquisition of Enviroguard represents our third acquisition within the pest control and prevention sector and allows us to offer a quality and responsive service in this highly fragmented market.

"Enviroguard brings with it an excellent quality client base within its area and will allow us to further enhance client relationships within the London and South East market."

  

  
To mark the acquistions comes
a new company logo 
The business will be integrated into the company's existing pest operations with the intention to maximise potential productivity and operational efficiencies within the combined group. John Somner, the current managing director of Enviroguard, will remain as a consultant to the business for a period, post completion.
Trevor Brennand has joined from Connaught Compliance as managing director of Green Compliance Pest Prevention Services, and will now take overall responsibility for all three pest control businesses. Trevor has previously worked in pest control for 12 years at National Britannia, which was bought by Connaught in 2007. He was also a co-owner and director of ANT Environmental.
Enviroguard, formed in 1984, provides pest control and prevention services along with being a bacteria control specialist to a wide range of organisations, but primarily to the public sector, retail and leisure industries. The company is based in Penshurst, Kent and has 14 staff. For the financial year ended 31 July 2010 Enviroguard reported sales of £1.09 million.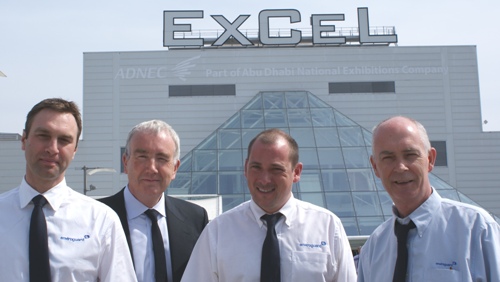 Part of the Enviroguard team at one of their long-standing accounts, ExCeL, venue for PestEx 2011.
Left to right: Matthew Rose, John Somner (managing director), John Parle and Peter McAuley