At a recent Business Star awards evening organised by the Perthshire Chamber of Commerce and held at the Crieff Hydro Hotel, Graham Environmental Services won the Excellence in Customer Service award and also gained a highly commendable runners-up spot in the Perthshire Business of the Year 2012.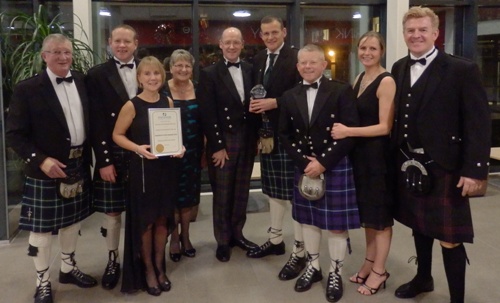 Ross Graham, (centre right) managing director of Graham Environmental Services receiving
the award from MSP John Swinney, Cabinet Secretary for Finance and Sustainable Growth
surrounded by the company"s directors and senior managers.
Managing director Ross Graham commented: "Winning these awards from over 600 companies that entered was beyond our wildest expectations. We were delighted that we were able to make such an impression on the judges through our application form and also during their visit to our premises."
Ross continued by explaining their recent strategy: "When the recession started to bite a few years ago we naturally began to lose a few customers who were struggling financially. The directors made the decision not to compromise our level of service for a cheaper alternative, but instead we decided to re-brand our company and add additional services to the existing pest control company which began trading in 1993.
Now within Graham Environmental Services, not only do we continue to offer a full range of pest control services, but we also provide our customers with washroom services, fire extinguisher servicing, kitchen deep cleaning/canopy cleaning, grease trap emptying, house clearances and PAT testing."
"I have thoroughly enjoyed the whole Awards process and it has given me the opportunity to sit back and reflect on how our company has been performing over the last few years. I have taken particular satisfaction in learning that we have carried out over 50,000 jobs in the last year alone and I think it is testament to the excellent staff we employ that they have been able to deliver a good service to our customers on a consistent basis.
We have also been able to give a lot back to the local community and we took an enormous amount of pride in learning that we have contributed over £75,000 in the last three years to assist several charities.
"The recognition for this award will be a tremendous boost for our company, who are about to celebrate our 20 year anniversary, and it will give us the exposure to continue to grow our business over the forthcoming years, concluded Ross.
Graham Environmental Services has more than doubled turnover in the last three years, increasing staff levels from 24 employees to 44. This, says the company, makes them Scotland's largest independent pest control company and also one of Perthshire's largest employers in the service industry.