A strategic new global partnership between two leading privately owned companies – Hockley International and Bleu Line (BL Group) – was announced on the opening day (22 March) of PestEx 2017.
Hockley International, based in Manchester and supplying products to over 60 countries, has reached agreement with Bleu Line Srl and B.L. Group, the Italian-based company based in Forlá¬, Italy specialising in the production and sale of environmental health products worldwide, through which Hockley will market and distribute a range of Bleu Line's pest control solutions.
Both companies share a similar ethos, investing in technology and product innovation and enjoying the freedom to operate the timely decision making that a family-orientated business allows.
Global access
This agreement will offer Bleu Line – B.L Group an immediate entry into the UK market with a total of eight products being launched. This will enhance the existing Hockley range sold in the UK via its distributors: Edialux, 1Env, PestFix and Barrettine

The partnership will help both companies compete in a highly-regulated market. A global roll-out is planned following the UK launch, through the existing Hockley customer network.

 
Environment-friendly products
A significant feature of this agreement is the introduction of a new range of ecological and low environmental impact products, which have long been requested by customers for common everyday problems.
Three such 'green' products will be offered with protectant and repellent properties for use on flies in animal housing and mites in poultry housing.
In addition, a new barrier product for action against bed bugs will be introduced to professional pest controllers for use within their existing programmes.A novel product based on the latest technology is also planned for countries fighting disease-carrying mosquitoes.
Frank Howard

Frank Howard, chairman of Hockley International commented: "We are delighted to have concluded this agreement with the Bleu Line – B.L. Group two family companies working together for mutual benefit."

Giovanni Bazzocchi, chairman of Bleu Line – B.L. Group responded saying: "I am sure that the links Hockley has forged over many years with their customers and partners, will help us become one of the most significant players in the UK market and beyond."

Giovanni Bazzocchi
Sealing the deal
As is the best way with all negotiations, the deal is sealed with a shake of hands.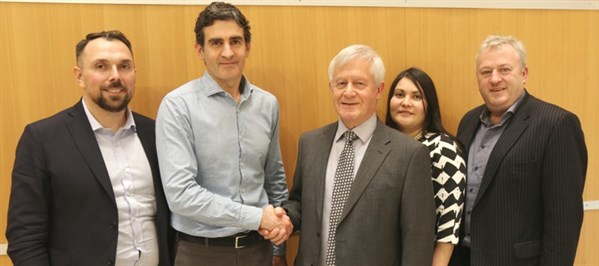 From left to right. Representing Bleu Line – B.L. Group: Stefano Scarponi (export sales director), Giovanni Bazzocchi, (chairman) shakes hands with Frank Howard (owner, Hockley International) with Dr Cristina Porro (lead regulatory specialist) and Tommy Gill (managing director)
The BL Group is a family company based in Forlá¬, Italy and established in 1982 by Attilio Bazzocchi, father of today's chairman, Giovanni Bazzocchi. Today it is one of the biggest players in the Italian professional pest control and home & garden markets, researching manufacturing and marketing a range of rodenticides, insecticides and larvicides. More recently, natural and more environment-friendly products have been added to the range. The company also supplies spraying equipment, bird control products and a range of bait stations, insect traps and other accessories.
Hockley International was founded by Frank Howard in 1991 and is based near Manchester, UK. Internationally, 80% of products researched and developed by Hockley are sold into the agricultural market in third world countries, particularly Africa. Animal housing markets make up nearly 5% with the balance of activity going to the public health sector. For more detail see the Pest report when they visited Hockley in 2011.