PelGar International, the Hampshire-based manufacturer of rodenticide and insecticide products, is pleased to announce the launch of its new website.
"The restyled site brings the website into line with PelGar's new corporate visual identity," explains Nic Blaszkowicz, PelGar's marketing manager. "The new site has been developed with PelGar's domestic and developing international business in mind. In particular we hope that it will provide PelGar's global customers with all the information they require to develop their pest control business in just a few keystrokes."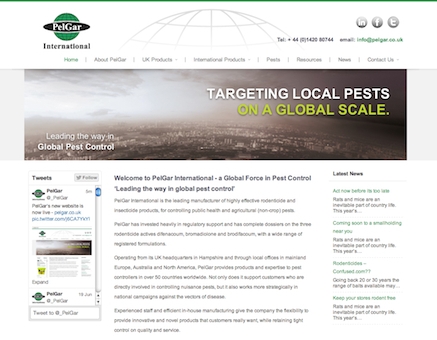 Check-out the new site at www.pelgar.co.uk
Clean and simple in design, the site, as PelGar explains, has been designed to:
be easy to navigate from the drop-down menu bar at the top of the page;
provide an excellent resource of product information for the pest control industry;
enable the download of sample labels and safety data sheets;
provide information on key pests and recommended products;
keep you up-to-date with PelGar's latest news;
let you find out what's trending in the industry with PelGar's live twitter feed @_PelGar;
provide a resource for product catalogues and other useful information.
The site has been developed in html5 which allows it to be optimised for use on smartphones and tablets without the requirement for separate mobile sites which can frustrate with their limited content.