All the way from Italy, and exhibiting for the very first time at PestWorld was Ekommerce. In their booth, some of the company's products were on display, but their prime objective was to seek out new distributors from across the globe – they want you.
With its head office in Italy, over the last 20 years the prime objective for Ekommerce has been to offer ecological solutions for use in the professional pest control industry. The company was originally established to promote Ekomille, the innovative and eco-friendly rodent control system. Find out about them here.
Today, the company is committed to offer innovative solutions in the environmental pest management services market on an international basis.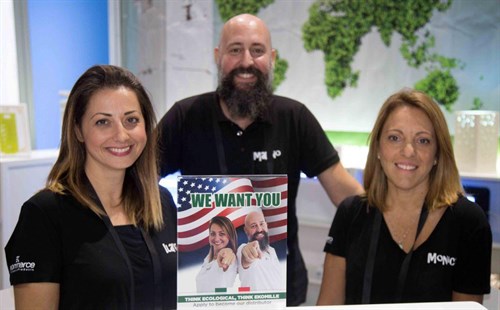 Wanted! On the Ekommerce stand. Ilaria Casalanguida (left) is accompanied by
Marino Marino, technical manager, and Monica Martin, manager of Ekommerce PCE, Spain
As export manager, Ilaria Casalanguida, explained at the event: "With our range of ecological 'made in Italy' products we have already established profitable relationships with distributors in several countries across the globe. However, our objective of attending PestWorld is to extend our coverage even further, into new territories. If you feel your company could be interested, please just get in touch."
Having now returned to Italy, how did the show go? "We were delighted by the interest our products created. We have already had very positive discussions with potential distributors, particularly from South and Central America."
| | | |
| --- | --- | --- |
| Admiring Ekomille is Ilaria with US agents Anthony and Giovanni Giaquinto of Rat Trap Inc  | | EKontrol, an integrated remote control system for monitoring rodent pests |
Ekomille the lead product
Ekomille is an electro-mechanical rodent trap designed for the continuous and effective capture of rodents. Using no poison, the box is hygienic, safe and ecologically friendly. Rodents are attracted by a natural bait, are captured immediately and stored out of sight.
New to the market is EkomilleCO?. This uses CO? which diffuses to the top of the bucket, so once the captured rodent comes into contact it falls asleep and painlessly dies.
EKontrol is an integrated remote control system for monitoring rodent pests, allowing real-time monitoring by both the professional pest controller and customer anywhere in the world.
| | | |
| --- | --- | --- |
| Marino with the Food 60S stainless steel trap (left) and WalLED UV LED glueboad trap (right) | | The stylish Tuffled UV LED trap catches the attention of visitors to the stand |
Fly control systems
The Ekommerce technical manager, Marino Marino, shows off (left) the Food 60S stainless steel UV trap. Constructed of stainless steel it contains a double-sided glueboard. Whilst to the right, is the WalLED UV LED glueboard trap, constructed of powder coated steel and available in a range of colours.
Designed for table top placement is the stylish Tuffled UV LED trap for capturing and monitoring flying insects. Made of natural Italian stone, its discreet design means it can be placed front of house.
Where to make contact
The full range of Ekommerce products can be seen on the website.
If you are ready to think Ekomille make direct contact via email or by phone +39 (0) 872 88058