Paris in November may not be quite so romantic as Paris in the spring but the French flagship pest management event, Parasitec, provided ample opportunity for UK-based Octavius Hunt to build new relationships with pest professionals from across Europe and beyond.
Plenty of interest in smoke products at Parasitec
It was the first time that Octavius Hunt had exhibited at the Paris event but, as technical director Nick Dale explains, they have been impressed with the feedback received: "We are very pleased with the show and the amount of interest in our products. Some visitors to our stand were not sure how smoke generators worked and it was an excellent opportunity for us to explain the technology and its benefits."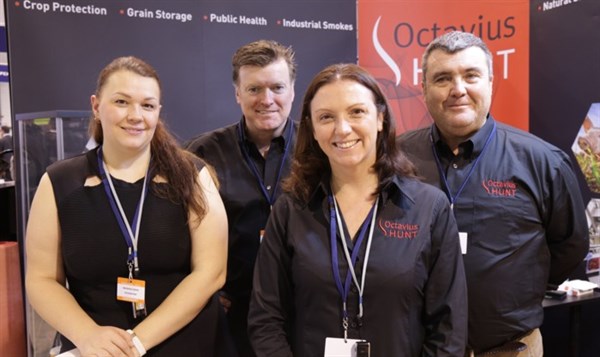 The Octavius Hunt team at Parasitec, from left: Olesja Drozdova, Seamus Butler,
Jo Scutcher and Nick Dale
The smoke products manufactured by Octavius Hunt use a specialist technology to combine four key components to produce a unique delivery system ideal for treating pests and diseases in any enclosed area. The types of area treated included private houses, warehouses, small animal housing, greenhouses, empty grain stores, freight containers, silos and food storage areas.

The four key components required are:
• Oxidiser;
• Fuel;
• Inert ingredient/substance;
• Active ingredient/substance.

The active can be a pesticide such as permethrin or cypermethrin but it can also be a natural essential oil such as lavender, garlic or mint.

Nick Dale, technical director at Octavius Hunt, reported plenty of interest in the company's Biofume range at Parasitec

Nick Dale continues: "There was particular interest in our natural smoke generators which supports the market trend to move toward environmentally safer methods of pest control."

The Biofume range consists of three smokes: the Greenhouse Smoke based on garlic, which boost plants natural defences and fights off insect attack, the Home Smoke which contains mint oil to repel fleas, and, of particular interest to stand visitors, the Mole Smoke, which uses lavender oil as a repellent. When the smoke is lit and put down the mole's tunnel the lavender oil coats the tunnel forming a physical barrier over its surface and preventing the mole from feeding. The Mole Smoke is currently available in Germany, France, Italy, the USA, Czech Republic, Poland and Hungary but, as yet, not in the UK.
The Biofume range proved popular with those looking for environmentally safer methods of pest control

As well as meeting potential new distributors of their products, the Octavius Hunt representatives at the show were also interested to talk to visitors and other exhibitors about possible future collaboration. The company already works with a wide range of other businesses. Nick concludes: "As we explained to visitors, Octavius Hunt is open to discussions about new product development including working with partners to grow our natural smoke range."

Octavius Hunt will be exhibiting at PestEx in London 22& 23 March 2017.