Italians, as a nation, ooze style and Italian companies are no exception. Bleu Line, or the BL Group as it is now more correctly known, clearly demonstrated their style at the Italian event in early March but there is much more to this company as their presence at the Disinfestando 2017 exhibition in the Palacongressi di Rimini clearly demonstrated. The BL Group is definitely a company of substance.
Style with substance – the BL Group at Disinfestando
As visitors entered the exhibition hall they were greeted by a massive video wall showing the new BL Group corporate video – a production which itself contained some stylish photography. But this was just the beginning.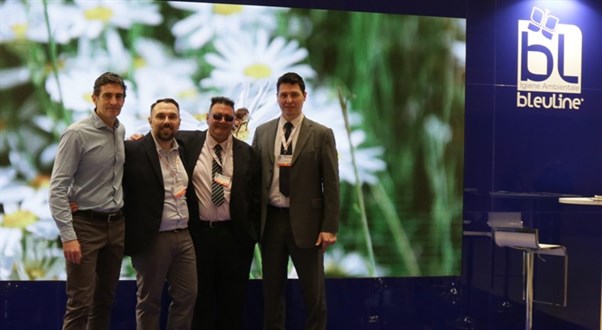 Some of the BL Group team in front of the impressive video wall. From left: Giovanni Bazzocchi,
Stefano Scarponi, Marco Alessandro Pizzi and Jurij Bilandži? Zajec
At the back of the hall was another large BL Group area this time complete with hospitality for visitors. This is Italy after all, so time must be made for a cocktail and a social chat. The plentiful seating area however was also being well used for business discussions. BL Group owners Giovanni Bazzocchi and Gloria Padovani and their home and export sales teams capitalised on the opportunity to talk to distributor customers and pest professionals.

The BL Group was the only exhibitor with two stands at the event, plus one for their Spray Team business.

Techncial workshops
But there was yet more evidence of the commitment the BL Group is making to the pest management sector at home, in Italy, and in export markets around the world.

Running in parallel with Disinfestando the BL Group had organised four in-depth training workshops conveniently located in a dedicated seminar room within the Palacongressi di Rimini.

Four workshops were held during Disinfestando

On the first day of the event, 8 March, there were two workshops demonstrating the innovative Thermo-bug equipment for pest control heat treatments. The first of these three hour sessions was in Italian but, reflecting the move towards a more international outlook for Disinfestando in general, the afternoon repeat session was in English for BL Group's international distributor customers and contacts.

On the second day of the event the morning session for Italian customers was a certification training course on Exterra, an innovative system for the elimination of termites. In the afternoon international distributors were invited to learn about the Freezanz misting systems for natural insecticides and repellents.

As export sales director Stefano Scarponi explained: "Two years ago we staged an export meeting at a separate venue in Rimini during Disinfestando but this year, with the Disinfestando event having a more international outreach, we decided to invite our international customers to the exhibition centre so that they could combine the seminar with a visit to the exhibition. All the workshops were very well attended," he added.

Bleu Line was also the main sponsor of the gala dinner organised by ANID to celebrate the association's 20th anniversary.

PestWorld East Dubai
The BL Group is also a main sponsor for the PestWorld East Dubai event on 10-11 April. As Giovanni Bazzocchi explained: "Europe is an important market but it is an increasingly tough one because of the costs and complexity of registering products through the Biocides Regulation. The Middle East and North Africa have much more potential for us as do South America and Asia which is why we are investing in these regions."

Family company
The BL Group is a family company established in 1982 by Giovanni's father Attilio Bazzocchi. Today it is one of the biggest players in the Italian market, researching manufacturing and marketing a range of rodenticides, insecticides and larvicides. More recently, natural and more environment- friendly products have been added to the range. The company also supplies spraying equipment, bird control products and a range of bait stations, insect traps and other accessories.

In Italy the company has a team of sales and technical support staff covering every region and provide advice and support to pest mangers. For the export business the company has strategic relationships with like-minded businesses.

Catalogues
Download a copy of the BL Group export catalogue (in English) from the Pest library or the home market catalogue in Italian. There is also a 2017 news booklet also in English giving more details on products that are new to the catalogues.

Staff and visitors on the BL Group stand at Disinfestando 2017