Knaresborough-based P+L Systems are looking forward to April when they hope to be moving into their new, purpose-built headquarters.
At the end of last year the company had a VIP visit to what is currently something of a building site from Andrew Jones MP, the Member of Parliament for Harrogate and Knaresborough. Accompanying the MP on his visit was Chris Bentley of Hornbeam Park Developments as well as P+L Systems managing director, Peter Mangion who was acting as host.
The new building is in Knaresborough, North Yorkshire and is in close proximity to the existing, separate P+L Systems warehouse and office buildings. The new building will not only bring both aspects of the operation together but also represents a substantial increase in office floor space and warehousing capacity for this rapidly growing business.
Offering an impressive 30,000ft sq of warehousing and manufacturing space, and a further 15,000ft sq of office area, the new facility represents a benchmark in the company's history which spans over 25 years based in the Harrogate and Knaresborough area.
Managing director Peter Mangion said: "We are very much looking forward to taking possession of our new home in the spring and we are grateful to Andrew Jones MP for taking the time to come and see what we are doing here and how we are growing our business, even in these challenging times. We are also very grateful for the efforts of Chris Bentley of Hornbeam Park Developments, and his various contractors, for providing us with such a high quality building which will allow us to take our company to a new level."
The building is located on Grimbald Crag Close Business Park, close to the A59 and is ideally placed for access to the A1(M). The facility will house the group's research and development activities, sales and customer service teams, administration, warehousing and dispatch functions.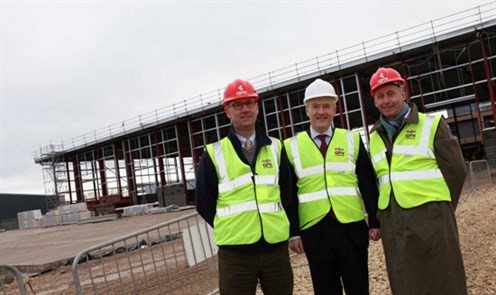 Site inspection! Visiting the new P+L Systems building in Knaresborough.
From left to right: Chris Bentley (Hornbeam Park Developments) with Andrew Jones MP and
Peter Mangion (P+L Systems)