The Terminix brand is back in the UK as its parent company ServiceMaster has completed the purchase of Mitie Pest Control Limited's (MPCL) national accounts. This was something that the UK's Competitions & Market Authority (CMA) required Rentokil to divest before its acquisition of the rest of Mitie could go through.
Mitie employees were given the news on Tuesday 8 October.

Gareth Davies, pictured below, centre, MPLC regional director South said: "In case you've heard differently Mitie Pest Control is still around. We'll be changing our name in a few months. It's the same faces, we'll just have stronger backing and a new name but the same dedicated service professionals"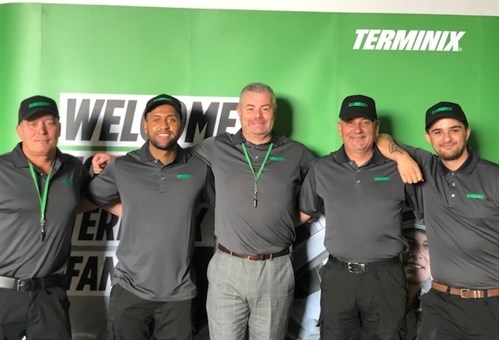 From left: Carl Chapman, Zac Johnson, Gareth Davies, Bill Miles and Anez Simpson
Jay Robinson from ServiceMaster commented: "We had a wonderful event with around 75 MPCL employees in Cheltenham this week and a webcast to all the technicians in the field. Strategic acquisitions and global growth are a key part of the ServiceMaster strategy.
"We are excited about teaming up with MPCL pest professionals around the UK and sharing best practices around intelligent pest management. We plan to leverage the best of MPCL and go to market with an innovative and integrated pest management strategy using the much-respected Terminix brand.
"This is an important opportunity to provide innovative and technology-enabled, integrated pest management to help protect our global customers, their businesses and the goods and services they sell from diseases, viruses and food-borne illnesses caused by the presence of pests."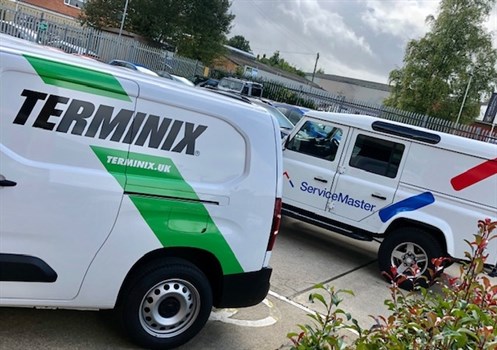 While Terminix does not operate a pest management business in the UK currently, ServiceMaster's better-known brands in the UK include ServiceMaster Clean and Merry Maids.
The company's European ambitions are clear to see. In September ServiceMaster acquired Nomor Holding AB, a Stockholm-based pest control company which has operations in Sweden and Norway and is Europe's second-largest privately held pest control company (after Anticimex) and the fourth largest in Europe.
ServiceMaster already has a presence in the Irish market as the company recently purchased Pest Pulse, a technology-based pest management company based in Dublin.
For those with longer memories, the Terminix brand used to have a presence in the UK until the business was sold to Ecolab in 2002.